DO YOU NEED TO JUMPSTART YOUR HEALTH AS A DRIVER AND DON'T KNOW WHERE TO START?
Are you sick of scrolling "healthy tips" but they all seem unrealistic, complicated, or not really made for a driver like you?

Julie is the Health and Wellness Manager for St. Christopher Fund. She has been with SCF since 2012 and in the non-profit industry for over twenty years. She is a Therapeutic Nutritional Counselor, Holistic Health Coach, and Clinical Herbalist with an emphasis on diabetes prevention. Julie has a passion to see drivers get healthier and feel better. She and her husband live on their family farm after spending most of their married life in the city.
Hope Zvara is a movement and lifestyle expert, speaker, CEO of Mother Trucker Yoga, and the creator of STIFF Mother Trucker Pain Relief Cream. Hope believes it's about the small, simple changes that lead to the big results in life so that you can feel good again. Hope has been featured in Forbes, Yahoo News, Overdrive Magazine, SiriusXM Radio, Truckers News, and dozens of radio and podcast shows. From yoga teacher to trucking fitness expert has helped change thousands of lives over the last 20 years using her simple step-by-step strategies and what she calls her "toolbox." And with that, she shows drivers how they can go from unhealthy and out of options to feeling good again with her unique easy to follow approach to health, fitness, and life, all while living over the road as a trucker. Hope lives in SE, Wisconsin, with her husband and three kids.
Driven To Be Healthy Challenge Starts Monday, August 30th 2021
Registration OPENS August 1st 2021!
OUR 5 WEEK HEALTH
&

FITNESS CHALLENGE IS COMPRISED OF 5 AREAS OF HEALTH:
Each week we will focus on one topic allowing you to build momentum in that one area.
This challenge is different than other challenges in that we are not here to find the "fittest trucker," nor are we telling you to work out every day, when we know that isn't realistic for most drivers and, quite honestly, not the road to long-lasting healthy changes in your life.
Being fit is about "fitting" health and fitness into your life. And we are here to show you how to do that.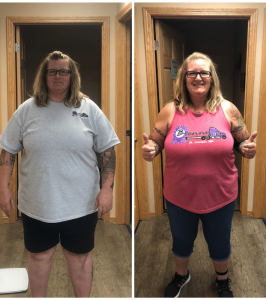 "I started my weight loss journey in May of 2020. When I thought of weight loss, I figured cutting my calories would be sufficient, but I never really put much thought into the whole picture of becoming healthier. So when I was given the information about the Driven to be Healthy Challenge, I figured it couldn't hurt to sign up and see what I might be missing. Hope and Julie not only made the recommendations of key components to help make that change, but they also explained the why's of the recommendations they made. The month-long challenge taught me life-long changes that I can use moving forward with my goals and has made a huge difference in how I think and feel. If you are struggling with how to go about making the changes to start living a healthier lifestyle, I would highly recommend you participate in one of these challenges. This group is a great support system to have on your side. Thank you, Hope and Julie!!"
– Rachel Hutchison
This challenge is different than other health challenges for drivers.    
FIRST
It is a COMPLETION CHALLENGE. Each person who stays engaged in the challenge for the full month is a winner and will receive prizes from various sponsors.
SECOND
It is a Two-Part Challenge.
The first part consists of a short 5-day challenge.
Every day Monday through Friday, Julie or Hope will go LIVE (at a designated time) to discuss and give something for drivers to participate in. Those lives will be turned into an email form for those who cannot make it to the LIVE video training.
Everyone who completes the 5-day challenge is eligible to move on to the second part of the challenge.
THIRD
That next week, the remaining 4-weeks of the challenge begins. You must actively participate and fill out the end-of-the-week evaluations to "actively stay in the challenge" and qualify for prizes.
FINALLY
Our Facebook group Accelerate Your Health with Mother Trucker Yoga is where the videos will be live each day and where drivers will post comments, ask questions, and post progress. Simply joining the group will not make you eligible to win any of the prizes. You must also fill out the registration form.
Once you sign up using our form on this page, you will receive an email as it gets closer to our challenge beginning with details on how to get started!
WE DON'T WANT YOU TO JUST SURVIVE, WE WANT YOU TO THRIVE!

WHAT YOU COULD WIN IN THE DRIVEN TO BE HEALTHY CHALLENGE
Prizes:
32 Ounce Water Canteen from Road Pro for every participant who fully completes the challenge.
4 Mother Trucker Yoga Audio Meditations and Drivers Seat Workouts
Discount Code for STIFF Mother Trucker pain relief cream
One Lucky Winner Will Receive Our Grand Prize:
The Road Pro Portable Oven (also known as the Lunch Box)
Mother Trucker Yoga Hat & T-Shirt
Tube of STIFF Mother Trucker
Terms & Conditions of Entering the Challenge:
*You must be a driver to be eligible for prizes. 
*Those that have participated and completed the challenge in past years are welcome to participate, but will not be eligible for any of the Road Pro donated prizes or Grand Prize.
*Anyone causing problems among the group or discouraging other drivers in any way will be removed permanently from the group no exceptions.
How do I qualify for the Grand Prize?
You actively participate in the challenge.
You are a positive role model for other drivers, this does not mean perfect or the healthiest, but rather giving it your all.
You have not participated in this challenge before.
SHOW YOUR SUPPORT! GRAB A TEE, WEAR IT AND TAG US ON SOCIAL MEDIA!
Here at Mother Trucker Yoga, we believe that it's about the small simple changes that you make over time that will lead you to the BIG results you are looking for. So you can, feel good again.