BIG THINGS REALLY CAN COME OUT OF SMALL TOWNS


WHAT IS IT
STIFF Mother Trucker™ is a powerful topical pain reliever that blends the best of the best ingredients helping to relieve muscle and joint pain and enhance healing. Other pain relief creams focus on artificial relief with a powerful punch upon application but no deep or long-lasting effects. After 20 years working with people in pain our creator wanted a pain relief cream that felt good on contact, penetrating deep, was long-lasting, and bared effects you could feel long after you apply it.
STIFF MOTHER TRUCKER'S™ MISSION STATEMENT:
Help 1 million drivers experience pain relief while living over the road.
We believe that "with one simple change, you can tell your toughest pains to hit the road"
There are dozens of pain relief creams out there yet nothing really made for a truck driver's toughest pains. Nothing focused on the blue-collar workers who use their bodies all day long and need relief fast. And drivers need access to relief fast, that is why truckstops and travel centers love STIFF Mother Trucker.
WHAT'S IN IT
Other topical pain relievers rely on one magic ingredient, are loaded with chemicals, or just flat out don't work. Ours is a unique blend of medicinal ingredients in just the right quantities to produce results that run deep.
Here are a few of our powerful frontline ingredients:
The ingredients in this product have been hand-selected based on the needs of its user- YOU.
WHY IT'S SO POWERFUL
Where other topical pain relief creams only have one, two, or maybe three active ingredients (the one often being menthol), we have SIX!
MENTHOL to help REDUCE pain and sensations and acts as a counterirritant causing the skin to feel cool then warm.
CAMPHOR to help REDUCE inflammation and pain so you can get back to what you love FAST.
CAPSICUM to INCREASE blood flow to help the area of discomfort recover FASTER.
GINGER to help REDUCE inflammation, reduce pain and help IMPROVE joint function.
ARNICA to help REDUCE skin bruising and reduce inflammation that causes pain and discomfort.
CALENDULA to help REDUCE inflammation due to its plant compounds when used in a topical cream.
HOW IT WORKS
STIFF Mother Trucker™, when applied as directed, helps to stimulate the body's natural functions to reduce pain, discomfort, and inflammation, and increase blood flow and enhance healing. The deep penetrating effect offers both immediate long-lasting cool-to-warm soothing relief. Get moving again with a pain relief cream that actually works.
Our unique formula is non-greasy and because our cool blue cream is colored naturally it does not stain the skin or create irritation. With STIFF Mother Trucker™ a little goes a long way. Other topical pain relievers require a large amount to feel any effects and keep you reapplying to feel like anything is working (even though we both know it's not working). Our cream comes out of the bottle with a bang and keeps working long after application.
For best results use STIFF Mother Trucker™ by massaging into the desired area for a few minutes until fully absorbed 2 to 4 times a day.
FAST-ACTING – LONG-LASTING – POWERFUL
STIFF MOTHER TRUCKER™ is recommended and approved by:
Professional Truck Drivers, Yoga Instructors, Massage Therapists, Physical Therapists, Athletic Trainers, Chiropractors, Doctors, DOT Medical Examiners, and others just like you.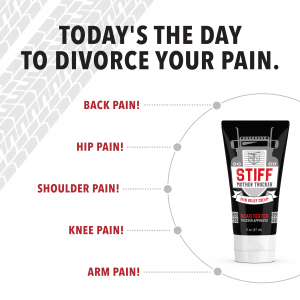 OTHER USES FOR STIFF MOTHER TRUCKER™ INCLUDE:

Arthritis

Back & Neck Pain

Bursitis

Carpal Tunnel

Fibromyalgia

Foot Pain

Gout
HOW STIFF MOTHER TRUCKER™ CAN HELP:
Headache

Knee Pain

Muscle Pain & Cramping

Rotator Cuff Discomfort

Sciatica

Shingles

Sports Injuries

Stiffness

Sunburn

Tendinitis

Tennis Elbow

Yoga



You don't have to be a mother, a trucker, or a yogi to benefit from using Stiff Mother Trucker™. Whether you're a keeper of the open road as a trucker, a frequent visitor of the yoga mat, or feeling the aches and pains of going from a desk job to doing it all, our pain relief cream can help. There's always something creating that pesky pain that just never seems to go away. A call out for help "Mother Trucker" style can happen at any moment, don't be caught without a remedy for instant relief.
It's times like these that STIFF MOTHER TRUCKER™ can help! STIFF MOTHER TRUCKER™ provides deep penetrating relief to all your aches and pains with a formula you can feel from the moment you apply it to the affected area to hours after. Our easy to apply cream is absorbed directly into the affected area and starts working within seconds so you can get back on the road, back to the mat, back on the computer, and back to living your best life and feel better, wherever you are.
Don't let pain keep you from your next long-haul, vacation, business meeting, yoga class, or enjoying a night on the couch. STIFF MOTHER TRUCKER'S™ got your back (and knees, and shoulders!)
ABOUT THE DEVELOPER & CREATOR:
Developed by Hope Zvara, 20-year yoga and movement specialists and CEO of Mother Trucker Yoga®.
After years working in the fitness and wellness industry helping thousands of students improve performance and reduce pain, she found herself constantly searching for a pain-relief cream that checked all of the boxes she felt were necessary for a cream to truly help improve her client's physical well-being.
When she moved into the trucking industry and began to work with thousands of truck drivers who live with continual chronic pain with little to no relief, so she decided to formulate her own. Working with a manufacturer in the beauty and cosmetic industry that deeply understood natural ingredients and how certain ingredients worked together best- STIFF MOTHER TRUCKER™ was born.
STIFF MOTHER TRUCKER HAS BEEN FEATURED
Forbes
Health & Fit Magazine
YahooNews
YahooStyle
What The Truck
Women In Trucking on Sirus XM
Disrupt Magazine
Medium
California Herold