Grab Your Copy of Trucking Fitness and get FREE SHIPPING!
Improve Your Health As A Driver In Just Minutes A Day
Because here at Mother Trucker Yoga we understand that as a driver everyone else's idea of fitness just won't work for you.
Our Trucker Fitness Guidebook is exactly what you have been missing.
THE ONLY DRIVER FITNESS GUIDE YOU WILL EVER NEED
Trucking Yoga will increase your mobility, decrease pain, and improve your health in a few minutes a day.
Road Tested, Trucker Approved
86% of the trucking industry is obese and more than 85% suffer from chronic back pain. It's time someone offers a solution that speaks to them.
If you are a trucker, you might travel thousands of miles but barely move your body. This sedentary lifestyle leaves you STIFF, SORE, and LESS healthy than you want to be. But no matter your age, level of activity, or job title, this book provides simple, small changes that will improve your life.
This is your TRUCKER FITNESS GUIDEBOOK.
PROUDLY PRINTED IN THE USA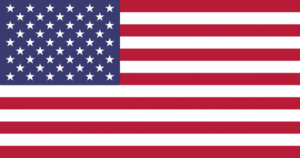 Don't wait until you are forced to choose your job or your health. Let us help you have both!
Are you looking for a solution that doesn't make you "exercise" out in front of everyone?
Are you interested in an approach that doesn't use fancy equipment, complicated moves, or the need for a yoga mat?
Do you recognize that you need to do something NOW for your body, health, and life before it's too late?
Trucking Yoga Simple Fitness for the Long Haul is your ANSWER to all your trucker fitness and truck driver health issues, compiled into one easy-to-follow guidebook.
We guarantee you will fall in love with Trucking Yoga, the #1 Trucker Fitness Guidebook the moment you open it.
If you open it up you find nothing you can apply to your driving lifestyle after reading it cover to cover, we will give you a 100% refund. 
Look Who Loves TRUCKING YOGA Simple Fitness for the Long Haul Book
Drivers Love Trucking Yoga Simple Fitness for the Long Haul as Their Trucker Fitness Companion
Hope Zvara is all things Yoga and all things Trucking. She uses her knowledge of the body to create techniques designed specifically for drivers. I personally have benefited from her Trucking Yoga book.  You won't regret making this small investment in your health. Now go get your book!
Trucking Yoga is a solid, easy-to-follow fundamental guide for everyday people, covering complicated health and fitness topics and translating them into simple terms supported with concrete examples anyone can understand.
This book is an excellent resource for drivers who want to live a more fulfilling lifestyle by improving their health, mobility, and mental point of view.
I love this fantastic book of quick exercises and stretches for truck drivers… but it can be used for anyone stuck in a sitting position all day. I have added in these small changes a few at a time with regular movement and have dropped 114 lbs which I'm still keeping off. A fabulous gift to give your driver!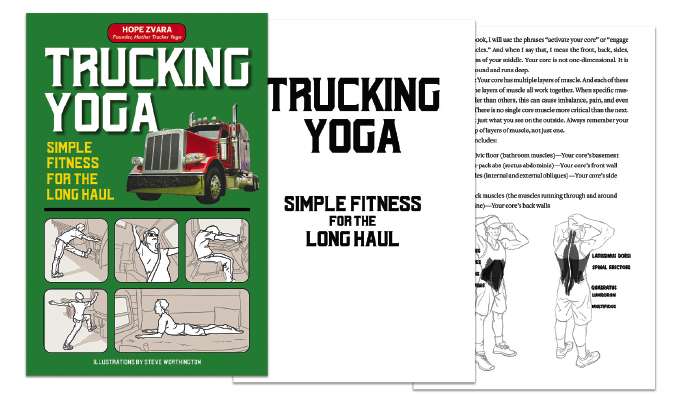 Inside Trucking Yoga Driver Fitness Guidebook, you'll see:
A breakdown of good posture inside and outside the rig for optimal driver fitness.

How to incorporate the fundamental movement patterns we all need to do every day to be healthy.

An easy-to-follow book written so that you can open it and learn a quick driver fitness exercise to instantly apply or read it cover to cover and craft a truck driver health plan that fits you.

Movements, stretches, exercises for all body types, pain points, and needs right from the truck!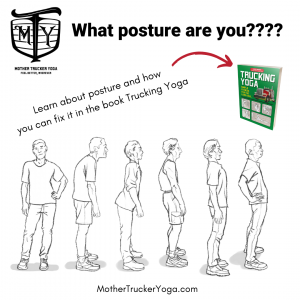 Trucking Yoga, your Trucker Fitness guidebook, will increase your mobility, decrease pain, and improve your health in just a few minutes a day.
If you're a trucker, you might travel thousands of miles but barely move your body. This sedentary lifestyle makes you stiff, sore, and less healthy than you want. But no matter your age, level of activity, or job title, this book provides you with simple, small changes that will improve your life. These driver fitness and trucker fitness solutions are specifically designed just for you.
Trucking Yoga is the first and most straightforward guide to over-the-road fitness. With 130 illustrations and clear text, it shows you how to use the tools and the time you already have to get fit. Practice trucking yoga from the driver's seat, the sleeper, or outside your parked rig. Trucker fitness and Driver Exercise just got easier.
Inside This Easy To Follow Trucker Fitness Guidebook Is:
With Our 5-Point Safety Check.
GET MOVING MORE EVERY DAY
With Our 4 Essential Movements, Everyone Must Do To Age Healthfully.
EASILY BRING EVERY LEARNED CONCEPT INTO YOUR OWN LIFE
With Your Wellness Pitstop Check In's Throughout The Book.
With More Than 60 Illustrated Driver-Friendly Exercises, Movements, and Relaxation Techniques You Can Do Right From Your Truck.
Trucking Yoga is the ONLY trucker fitness guidebook made for drivers focusing on moves they can do right from the truck's cab. And the best part is, it cost less than a meal at a restaurant or a visit to the chiropractor..
Why Trucking Yoga Book?
Mother Trucker Yoga is an unfancy fitness company that helps truckers improve their health even in the cab of a truck. No gym is required!
This is the perfect trucking fitness guide, and an excellent companion to Mother Trucker Yoga's LIFESTYLE JUMPSTART Membership Platform + APP.
Truckers are the lifeline of this country, yet they often suffer from poor health. 86% of the nation's 3.2 million truckers are obese, and truckers are twice as likely as any other profession to become overweight and suffer various health problems.
The truck driving community is underserved, but Hope Zvara has begun to change that with her videos, trucking wellness programming, and in-person training. And her efforts at providing foundational habits are changing lives, decreasing pain, and increasing mobility.
Let's make trucker fitness easy and understandable.
Not only are there 3.2 million drivers who can use this book today, but the principles behind Trucking Yoga would work for anyone who is chair or office-bound and doesn't have time or resources for regular exercise.