How Mother Trucker Yoga LIFESTYLE JUMPSTART Membership Platform works.


Access to our platform with over 100+ custom videos and wellness-focused content is easy.

STEP 1: You can log into your account via computer, laptop, or any other device by going here:  https://www.store.mothertruckeryoga.com/my-account/

You can also find this login page by going to our HOME PAGE, and under the PROGRAMS tab in the drop-down menu, you will see MEMBER LOGIN; click there.

STEP 2: Once you are logged in, you will see your dashboard, where you can view purchases and your available content. To access your LIFESTYLE JUMPSTART content go to My Membership or visit https://www.store.mothertruckeryoga.com/my-courses/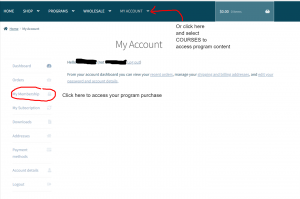 STEP 3: Once you log into our platform in your web browser, this is what you will see:

And you will have immediate access to all our content and all future uploads! And great news!

STEP 4: If you are an ANDROID user, you can download our APP in the Google Play Store!
 >> Mother Trucker Yoga Apple/iPhone is coming soon we are working on our approval with Apple.
Thank you for your patience as we navigate that.

To log into the APP, you will need to use the same login credentials as you did on the web-based version:
(If you can't remember- just reset your password!)