Summer Time means a lot of things to a lot of people. It's everywhere. There are farmers' markets, and food stands around here in Wisconsin. Two weeks ago, I was in Georgia, and we bought the most delicious Georgia peaches from a local produce stand- delicious! But one fantastic thing about summertime is the availability of fresh produce. 
Often we allow the lack of ability to get to the grocery store to paralyze us into thinking we can't find fresh, healthy foods. And that isn't true. As a driver, you may have a few more bumps along the way, but there is a way!
Whether you are at home with family cooking in your kitchen or on your grill, or you are on the road in search of a bite to eat, or you have everything you need right on your truck. You can add a bit more freshness into your summertime foods!
4 Strategies to Eating More Fresh Produce During the Summertime
ADD MORE VEGGIES INTO YOUR DIET THAT ARE TRAVEL-FRIENDLY.
I like adding avocado to my sandwiches, salads and don't forget about eating them like a boat. Add sliced carrots, some onion flakes, garlic powder, and a scoop of hummus. YUM! Or the next time you're cooking fish, meat, or poultry at home or over the road, don't forget your Road Pro Lunch Box (Portable Stove). Try this: sauté some peppers, onion, garlic, even some thinly sliced potatoes and tomatoes to serve as the topping. Add a little extra virgin olive oil to your Lunch Box and throw everything inside to cook! When you bulk up a meal with veggies, you add volume without excess calories and unwanted, unhealthy fats. Plus, veggies are great for digestion and elimination, so you feel better. Want more ideas for getting all your veggies? Join our community on Facebook – Accelerate Your Health with Mother Trucker Yoga, where we have fantastic drivers sharing amazing recipes they 100% prepare on the truck! 
DRESS UP YOUR SALAD.
Not all salads are healthy, so just because you see a clear package of lettuce with toppings at the truck stop or an option for a salad at a restaurant, STOP and take a closer look. Look for salads with romaine lettuce, spinach, collard greens, or leafy greens like arugula or mixed greens instead of ice burg lettuce. Ice burg lettuce has no nutritional value and does not digest as you think a "lettuce" should. If possible, find a better bed of greens. Once you pick your leafy greens, look at what's on top. Steer clear of salads loaded with cheese and processed ham, fried foods on top, or unhealthy dressings loaded with unnecessary fats. Try to find or make a salad with a variety of greens, which offer disease-fighting nutrients. And for your protein pick, choose lean protein like fish (not fried), beans, legumes, quinoa, grilled chicken, or a bunless burger on top when in need.
PREP BEFORE YOU HEAD OUT.
There are many benefits to eating at home, but for a truck driver, that is not always an option available, sometimes for weeks, even months at a time. So, first of all, don't step into the healthy eating arena with a mindset that "it can't be done." Because if you think it can't, you won't find a way. What can you prep before you head out? What can you pack for the trip, even if it only lasts you a few days or a few weeks? Try loading up things like dried veggies (I love dried pea pods and wasabi peas that you can often find right in the produce section. Veggies like onions travel well and are a great natural blood cleaner, keeping you healthy. 
If you have a frig or cooler, consider root vegetables as they often keep longer, like carrots, parsnips, radishes, and kohlrabi (which will be in season late summer early fall). All these veggies are crunchy and delicious. Add a little salt or eat with salsa; kohlrabi is a perfect alternative snack to a bag of chips. 
Alternative for Your Sandwich Bread
And for a great bread alternative, consider rice paper wraps. And when you are trying to make sure you are eating fresh produce more regularly I love this alternative! All you need is a little water to soften them, and you can wrap just about anything inside for a yummy healthy sandwich alternative. Please read our blog on how to make a rice paper wrap on the go.
When you mix in your ride-along foods with a bought meal, it can boost nutrition and help you feel better. They may not last for months, but even just a few good meals are better than none.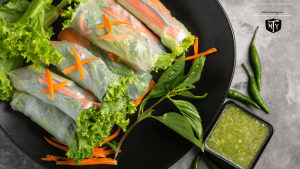 DON'T FORGET THE FRUIT.
Summer is a great time for fresh fruit. Berries are always a huge hit; they tasted good and have a high antioxidant rating, and are low in sugar if you have diabetes. But berries aren't the only thing that you can munch on for a sweet treat. Consider melons, cherries even grilled peaches as an alternative for cookies, cakes, and even ice cream. There is so much talk floating around, leaving people feeling scared to eat fruit because they contain sugar. Now be smart, and if you have a chronic illness or disease that requires watching your sugars, yes, fruits can spike them when not combined correctly; however, if I had to choose a Snickers bar, bottled fruit juice, piece of cake, or A PIECE OF FRESH FRUIT. I'd 100% choose the fruit—Medical News Today's list of 12 fruits and their nutritional components. 
In Conclusion
No matter what you choose to eat, if you are living a sedentary lifestyle, you aren't moving your body throughout the day, there is going to be a stagnation in your body, and that stagnation is what leads to disease, not a piece of fruit. So enjoy summertime, enjoy fresh foods, and get out and move.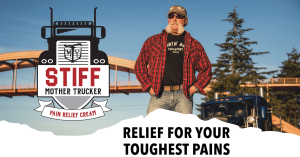 https://www.mothertruckeryoga.com/wp-content/uploads/2021/07/4-Strategies-to-Eating-More-Fresh-Produce-During-the-Summertime.png
720
1280
pbeue
https://mothertruckeryoga.com/wp-content/uploads/2018/02/MTY-Icon.png
pbeue
2021-07-06 06:00:33
2021-06-29 12:52:33
Drivers: 4 Strategies to Eating More Fresh Produce