The Benefits of Capsicum for Natural Pain Relief
When I set out to create my pain relief cream, I had a list of ingredients I wanted in my pain cream and a list of what I didn't. For the past 20 years I have been using, searching, and sampling other peoples pain relief creams and some of them worked, some didn't. But all of them had something I didn't like about them (in the ingredients). I have been saying, "one day, I'll make my pain relief cream" for nearly five years. But when you live in a small town in Wisconsin, when will you plan to meet a manufacture and a formulator and someone who knows how to create a legit product? 
But while assisting one of my mentors at a workshop and hearing what I do with Mother Trucker Yoga, the great question came out of their mouth, "have you ever thought about creating a product?" A few months later, after several samples, ingredient combinations, texture trials, container sampling, and label creation- STIFF Mother Trucker Pain Relief Cream was born.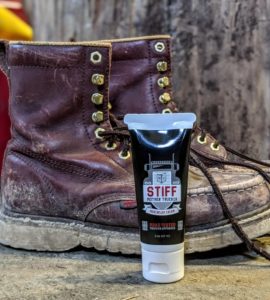 One of our favorite ingredients:
Capsicum or chili peppers are increasing their debut in the pain management department. You'll find its chemical compound Capsaicin in many pain-relieving creams, gels, lotions, sticks, and sprays. Its topical formulation is an efficient pain management tool.
cap·​si·​cum
|
\
 ˈkap-si-kəm
\
1a: any of a genus (Capsicum) of tropical American herbs and shrubs of the nightshade family widely cultivated for their many-seeded usually fleshy-walled berries
— called also pepper
What is Capsaicin?
Capsaicin was first isolated from chili peppers or capsicum in 1878 in crystalline form. Capsicum except bell pepper has its hot and spicy flavor from this little fellow, a remarkable health-promoting substance. It increases gastric secretions and stimulates nerve endings.
The Scoville Scale
However, its intense burning and irritating properties make it intolerable. Since it is a self-administered medicine, prescriptions are not required. Hence, to avoid the side effects from large quantity administration, a tool named Scoville scale was derived by W. Scoville which is used to determine the healthy amount of capsaicin in these medicinal preparations.
Uses of Capsicum for Topical Administration
The topical formulation of Capsaicin is absorbed well through the human skin. It is conveniently useful in the relief of:
Minor aches and pains from daily life
 Joint pains from age or injuries
Backache from long-term sitting or driving
Strains from muscle overuse, or muscle underuse coupled with jarring movements
Sprains from exercise, work-related injuries, or life!
Stings and bites from  bees and insects
Chronic pain from injuries, stiffness, and lingering pain
Pains like sciatica and piriformis syndrome
Indications of Capsaicin
F.D.A. Labeled Conditions
Arthritis

Rheumatoid Arthritis

Osteoarthritis

Fibromyalgia

Musculoskeletal Pains
F.D.A. Non-Labeled Conditions
Neuropathy Postoperative complications

Postherpetic neuralgia

Diabetic neuropathy

Migraine

 Postoperative nausea and vomiting

Psoriasis
Mechanism of Action
Capsaicin works in topical administration, although its exact mechanism has not been elucidated yet.
Capsaicin is a neuropeptide-active agent that renders the pain-sensitive areas insensitive to the pain sensation by depleting and preventing the accumulation of pain impulse mediators (from peripheral to the central nervous system). With this phenomenon, painful sensations fail to travel to the Central nervous system's pain-sensitive regions, which gives us temporary relief from the painful episode.
Precautions
Do not apply Capsaicin cream to the cuts and open wounds.
Wash your hand immediately after applying the cream to avoid unnecessarily touching the burn sensitive areas such as nose, eyes, or mouth, etc.
Always consult your physician for directions before using the cream to get desirable results.
Side-Effects
Like all other topical herbs, chemicals, treatments, and oils, there are precautions you wan tot take and things you want to consider when using. These side effects can occur due to excessive use or use in forbidden areas. They include:
Burning sensation

Itching or Irritation

Swelling

Redness

Pain 
These side effects are often short-term and are often associated with improper use (IE- private parts, eyes, mouth). Some notice this with its first use, but they will gradually fade away after its continuous application. In our STIFF Mother Trucker formula, we are using just the right amount of capsicum combined with other soothing and cooling ingredients to give you the perfect combination for your muscles and skin. 
Read your labels on ALL your pain relief creams. Read your labels, many focus only on immediate cooling, but nothing to penetrate deep, nothing to do anything beneath the surface. That's where STIFF Mother Trucker comes in. Let us be your number one solution for pain relief that hits you deeply! 
Ready to try the amazing benefits of capsicum and our other amazing all-natural ingredients??
Grab a tube HERE + get FREE Shipping + Free Stickers
https://www.mothertruckeryoga.com/wp-content/uploads/2020/09/pain-relief-Blog-Mother-Trucker-yoga-2.jpg
720
1280
pbeue
https://mothertruckeryoga.com/wp-content/uploads/2018/02/MTY-Icon.png
pbeue
2020-09-03 18:30:48
2020-09-03 18:31:47
The Benefits of Capsicum for Natural Pain Relief