I'm excited to share that I was featured in Disruptors Magazine this month!
I started teaching yoga because it made a difference in my life. So I signed up for my first of many yoga teacher training. That was nearly 20 years ago.
The article is about the 30 Female Entrepreneurs to look out for in 2022.
https://www.disruptorsmagazine.com/top-30-female-entrepreneurs-to-look-out-for-in-2022/
"Primarily male-dominated entrepreneurial ground has seen some of the most incredible innovations when women have set their foot into the industry. Today, their entrepreneurial ideas have been evolving various business domains in no time and, their leadership has become an inspiration for many budding female entrepreneurs out there. From being founders of successful startups to being heads of global business giants, they have embraced these roles effortlessly."
Disruptors Magazine has listed down their favorite female entrepreneurs today, who have made their way to success with not just hard work, but their positivity, grit, and untiring love for their businesses."
I am honored to have been featured.
For nearly 20 years, I have been on a mission to help others purposefully excel, and for the last four years, I have been on a global mission to help truck drivers feel better wherever they are with small, simple changes. Changes that they can easily and quickly make, many from the cab of their truck so they can feel good again.
What I do is not fancy. It's functional and practical. It's designed for a driver who doesn't have lots of space, time or wants to "workout" or exercise on the truck. And although everyone else is telling drivers that they need to exercise, I'm telling them there is another way.
There is a gap between a very sedentary lifestyle and exercise. Most are pushing exercise, but that won't work. It hasn't worked for both truck drivers and the rest of America. 86% of truck drivers are obese, and 32% of Americans are obese. I believe the thing that has to change is our approach, and I'm here to help drivers do just that. And that way is FIRST to implement more everyday life movements into their day. A trucker workout is great, but most can find ideas on Google or YouTube. I'm here to show drivers how to move more in their everyday life. What their day is missing that has nothing to do with exercise. But can lead them down that path confidently if they so choose!
I love my drivers, and I love what I can contribute to the trucking community. Whether you are a driver, a trucking school, or a trucking company of any kind, I can help. With affordable, practical, and realistic moves and tools, I believe we can get drivers feeling better the moment they join the movement.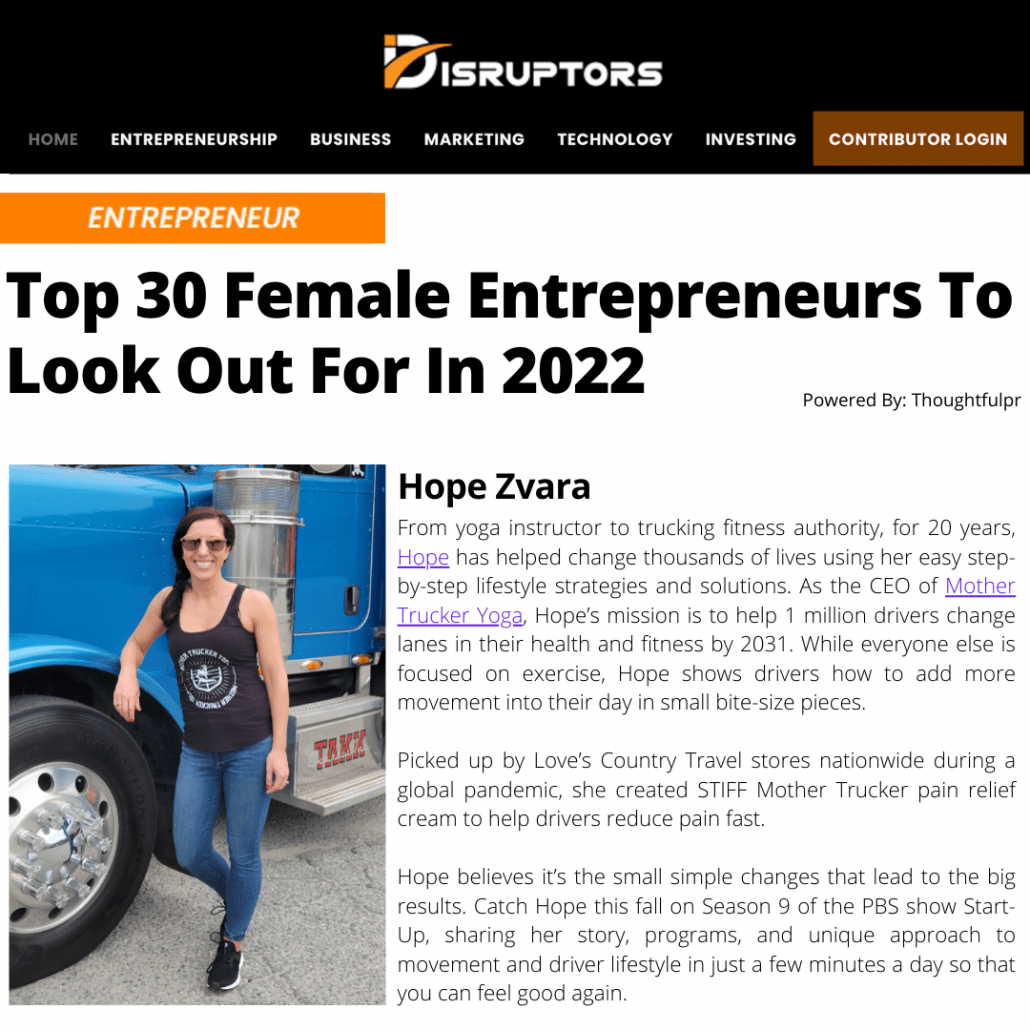 For more information about joining up with Mother Trucker Yoga, reach out, and let's move our drivers towards a healthier future together!
Catch Hope on Start Up on PBS on November 28th. Where she is sharing her journey as an entrepreneur and what she's doing in the trucking community! START UP on PBS
https://www.mothertruckeryoga.com/wp-content/uploads/2021/11/MTY-blog-17.jpg
720
1280
pbeue
https://mothertruckeryoga.com/wp-content/uploads/2018/02/MTY-Icon.png
pbeue
2021-11-16 13:07:06
2021-11-16 13:13:01
Hope Zvara Named in Top 30 Female Entrepreneurs for 2022