Welcome to Mother Trucker Yoga, your trucking fitness company. Here at Mother Trucker Yoga®, we focus on small, simple changes that lead to the big results™. We are not interested in giving you another gym-based fitness program or fitness app for you to watch exercises and then do them for maybe a day, week, or month and then never do them again.
We focus on "fitting health and movement into your everyday life". We are the first and only trucking fitness company that uses the lifestyle practices like mindfulness, breathing, and stress relief taught through yoga to help drivers in their health and wellness journey.
Our Mission at Mother Trucker Yoga
Mother Trucker Yoga® believes that you can feel better wherever you are with small, simple changes that will lead to big results. No matter your situation, no matter your environment.
Mother Trucker Yoga® wants to help 1 million drivers change lanes in their health and fitness by 2031. Whether you are a truck driver, an Uber driver, a bus driver, an Amazon driver, someone who finds themselves behind the wheel for hours a day- we want to help you.
As your trucking fitness company, we want you to know that we understand. And just like you want a lifelong expert mechanic working on your truck, you definitely want the same when it comes to working on your body, mind, and health. For many, jumping on the health and fitness bandwagon is an afterthought. Meaning everyone else is talking about it, so we should too. But not at Mother Trucker Yoga.
For nearly 20 years, I have been deeply rooted in health, fitness, mindfulness, and movement.

Hope Zvara, CEO & Founder of Mother Trucker Yoga
Our Method at Mother Trucker Yoga
Most people focus on the WHAT when trying to help others solve a problem. And when it comes to fitness and health, this is where people stop. And in turn, you never get the results you are looking for.
Here at Mother Trucker Yoga®, we help drivers just like you implement small, simple changes that will lead to big results by adding more movement into your day, every day. So rather than removing yourself from your day-to-go "workout" and only focusing on the what, we focus on the HOW, WHY, WHAT and WHEN. And it's these small, simple changes, when implemented correctly, where drivers see the biggest changes.
We want to help you feel good again and show you the path to improving your health by moving more, and making small yet powerful changes. And when implemented correctly, you are looking at lasting results that you, your family, and your company can enjoy.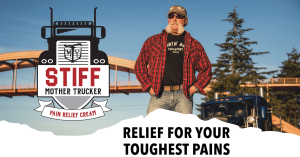 https://www.mothertruckeryoga.com/wp-content/uploads/2021/07/How-To-Live-Happier-And-Healthier-This-Summer-1.png
720
1280
pbeue
https://mothertruckeryoga.com/wp-content/uploads/2018/02/MTY-Icon.png
pbeue
2021-07-01 13:56:52
2021-07-01 13:57:42
We Are Your Trucking Fitness Company