Introducing "Mother Trucker Yoga: Moves Drivers Can Do Anytime, Anywhere", the ultimate book for better driver wellness! Designed specifically for truck drivers and those who live sedentary lives, this revolutionary book teaches you how to effortlessly improve your health and wellbeing while living over the road.
Did you know that of the 3.5 million truck drivers in the US and 8.7 million truck drivers globally, 40% are either overweight or obese? Yet, this issue isn't limited to truckers; approximately 50 million Americans lead immobile lives, increasing their risk for health problems.
It's time to change the narrative and show that health and fitness don't need to be complicated and can be improved anytime, anywhere. Introducing Trucking Yoga, the solution to transform an industry where 88% of drivers have one or more health issues, helping them and others on their journey toward better health.
Our founder realized truck drivers' need for a fitness solution tailored to their unique lifestyle when pitching corporate wellness ideas for a trucking company. It's no wonder that Mother Trucker Yoga was launched soon after at the US's largest trucking show in Louisville, KY. With a mission to have truck drivers' needs seen, acknowledged, and met, Mother Trucker Yoga created the groundbreaking book based on what successfully worked for drivers.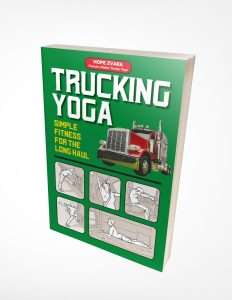 "Mother Trucker Yoga: Moves Drivers Can Do Anytime, Anywhere" provides bite-sized, easy-to-apply moves, tips, and exercises guaranteed to improve overall health and quality of life. These easy moves can be executed in one to three minutes or less, right from the driver's seat, sleeper, and outside the truck's cab. This book offers practical solutions for truck drivers, bus drivers, and people in prisons – even those who hate going to the gym can use the gaps in their day to stay healthy and fit.
Meet Robert Green, who had been dealing with the effects of obesity for some time, and feared losing his Commercial Driver's License. With a focus on gaining more mobility and reducing fatigue, Robert added simple changes to his daily routine. Now, he's walking almost two miles daily, doing movements in his truck, and drinking more water. To date, Robert has lost more than 289 pounds! Although other health conditions have taken off the road and affected his health, his spirits are still high, and he is still focused on his health.
Then there's Idella Hansen, who after long hours gripping the steering wheel, shifting, and using floor pedals, struggled with neck and shoulder pain, arthritis, and swollen legs. After working with Mother Trucker Yoga, Idella can now move during the day without pain, and her mobility has significantly improved.
These are just two examples of the countless drivers who have benefited from the Mother Trucker Yoga lifestyle. Every day, we receive messages from drivers looking for advice on dealing with back pain or seeking guidance on where to start with yoga.
Don't wait any longer! Trucking Yoga, the book for better driver wellness, is here to help every truck driver in America make small, powerful changes that will forever impact their lives. Mother Trucker Yoga: Moves Drivers Can Do Anytime, Anywhere – it's more than just a book; it's a revolution, paving the way for a healthier future in the trucking industry.
Ready to join the movement? Today, grab your copy of "Trucking Yoga: Simple Fitness for the Long Haul" and start your journey toward better driver wellness!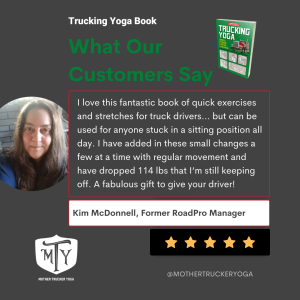 https://www.mothertruckeryoga.com/wp-content/uploads/2023/09/BLOG-IMAGES-9.png
720
1280
pbeue
https://mothertruckeryoga.com/wp-content/uploads/2018/02/MTY-Icon.png
pbeue
2023-09-20 14:05:20
2023-09-20 14:05:20
Trucking Yoga: The Ultimate Guide for Better Driver Wellness