It's here! The St. Christopher Truckers Relief Fund (SFC) Highway to Hope Podcast Episode 6 is out! The trucking community is in need of a health and wellness overhaul.
The Trucking Industry Needs A Health Boost:
The trucking industry is in danger. Karl Sieber, Ph.D. noted on the CDCs website that: "Twenty-seven percent of drivers reported no moderate or vigorous physical activity of at least 30 minutes duration during the previous 7 days."
And in this episode, Julie from St. Christopher Truckers Relief Fund, Kim McDonnell from RoadPro, drivers Craig Daniels and Carmen Andersen join alongside Hope Zvara from Mother Trucker Yoga as they discuss the state of the trucking industry and their health. But more importantly what can be done now.  It's time and every driver has the ability to make some type of change and with the right kind of support, they too can improve their health starting today! AIt's because of this that Mother Trucker Yoga and SFC are teaming up to create a 100% FREE wellness challenge for truck drivers.
What Is In Episode 6, Part 1 of the Highway to Hope Podcast?
In the first of two Health & Wellness editions of the podcast to be released in July, the Highway To Hope details SCF's Going The Distance Challenge. SCF Wellness Manager Julie Dillon highlights this new program, explains why it's different than what they have done before and what others are doing currently in the industry.
Joining Julie as guests on this edition of the podcast are Hope Zvara, the co-founder of Mother Trucker Yoga and Kim McDonnell, the Senior Marketing Content and Community Manager for RoadPro Family of Brands. RoadPro is serving as a sponsor for the Going The Distance Challenge.
Julie and Hope outline the new program and how professional drivers can join the Going The Distance Challenge. Kim, who also serves on SCF's Board of Directors, talks about RoadPro's involvement with the program and the company's support of SCF. SCF Director of Philanthropy and Development Shannon Currier serves as your host. Shannon is joined on the podcast by Greg Thompson, the Executive Producer of the PodWheels Network.
  Where To Go To Listen:
You can tune in and listen to the episode over on the St. Christopher Truckers Relief Fund website HERE.
You can listen in your truck, on your break, or after you are done for the day and you are getting your steps in. Find out why and how easy it is to take back your health one step at a time.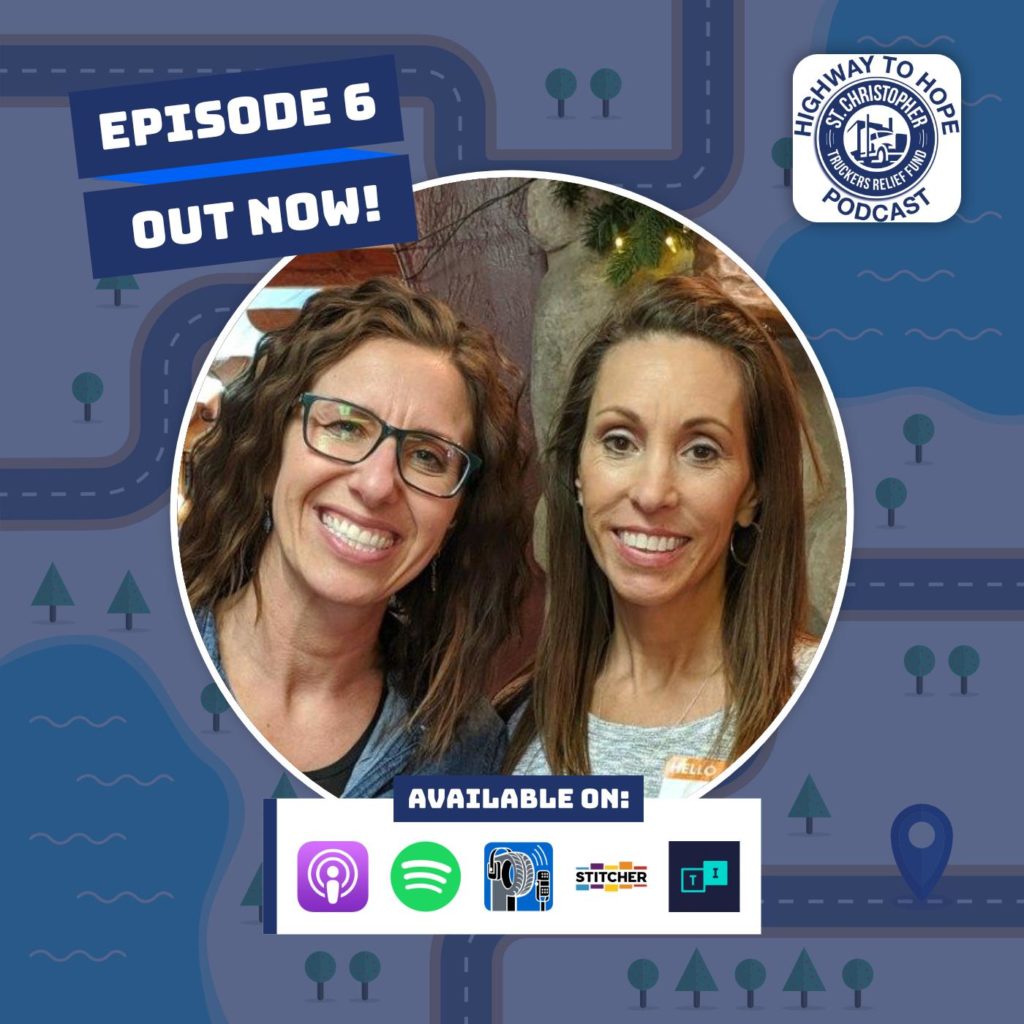 Find Out More:
Are you a truck driver? Are you ready to take that next small step towards improving your health? Join HERE
Read more about our Driven to Be Health – Going the Distance Health & Wellness Challenge is Mother Trucker Yoga's BLOG HERE.
https://www.mothertruckeryoga.com/wp-content/uploads/2020/07/highway-to-hope-podcast-truckers-health-challenge-.jpg
720
1280
pbeue
https://mothertruckeryoga.com/wp-content/uploads/2018/02/MTY-Icon.png
pbeue
2020-07-14 07:00:31
2020-07-13 21:38:37
Highway to Hope Podcast | Trucker's Health Challenge