6 Rules for Over the Road Fitness
The idea of over the road fitness is not the norm for some. And for others, they think of it only as taking their traditional workout with them. And that is great. But for the rest of us, being smart and looking at how you can add movement, fitness, health into your day, even while doing what you always do is what I call over the road fitness. And fitness in your everyday life!
Long drives can trigger multiple health issues! Old News!
We can pull through the long-distance travels effortlessly!
Good News!
Let us take look at
"How can we avoid backache on the way?" Back pain is not new news, but the reality is there is a large group of people who have back pain, or any pain and it doesn't bother them enough to make a change. There is a story that a mentor told me some years ago. 
There was a cat laying on a nail crying meow. 
And the owner's friend asked, "why is the cat meowing?" 
And the owner said, "oh, she's laying on a nail". 
And the friend said, "well, why doesn't she just get off the nail?" 
The owner said, "Because it doesn't hurt that bad". 
The moral of the cat story is some people's pain is only bad enough to complain about it. They don't actually want to do something about it. Where is your pain? Where is your desire for being healthy and improving your fitness? We won't change anything we don't want to change. Here are a few road rules to help you stay healthy, fit, and happy while traveling, driving, rolling down the open road. 
Forestall the trigger
Each time you enter your car or any vehicle, open your door wide. Use your hand to hold the seat, keep your back straight, bend your knees, and take your seat at your near edge of the seat while facing the vehicle. Then, in one move, lift and swing your legs together and place them on the car's foot-mat.
Adjust your seat accordingly.
You just can't fix your seat where you can see everything clearly to feel like a boss on the road and let your back handle all the discomfort in the world.
Setting your seat at a height that your hips lie in the same height as of your knees is more befitting.
Are you in need of a new truck seat? Many drivers think they can't afford a supportive truck seat. But can you afford years of pain, spinal damage, and discomfort from years of driving? Invest in yourself before things breakdown- that includes your body! Check out the AIR CHIEF STANDARD STYLE ON-HIGHWAY TRUCK SEAT from Bud and Tony's Truck Parts.
Standard Features to this seat include:
20" Wide Soft Seat Cushion
Height Adjustable Headrest (can be removed)
Fully Reclining Backrest
Triple Chamber Air-Lumbar Support System
3-Position Seat Cushion Extension & Tilt Adjustment
Fore & Aft Slides (7 Inch Tracks)
Poly-Dynamic Air-Suspension™
Integrated Isolator
ICP -moves with Suspension & Isolator
Bellow
Relax Your Body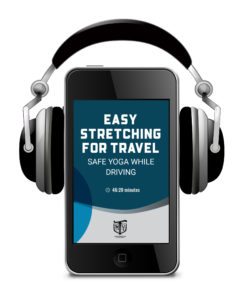 Do not sit like a statue and try checking regularly, reminding yourself to relax your arms or legs while driving. Not only will it trigger back problems but will also hamper with blood circulation. Muscle cramps and stiffness. Let's be honest, we get lazy and even though we can move while driving, we don't. So make it a point to move more while driving. Need help getting creative with movements? Check out Mother Trucker Yoga's Audio Easy Stretching for Travel: Safe Yoga While Driving Download.
Arms position and pedal distance
Your arms should be bent at 20-30 degree angles while your legs should bend at a 45-degree angle. It will prevent you from slouching and support your spine. Look for your sweet spot and commit your driving for a lifetime to it. This may require you to purchase additional support tools for your truck or vehicle. 
Lumbar Support
This invention is no less than a blessing for people suffering from backache—use quality lumbar support to keep your back in a right and comfortable position. BackShield is lumbar support designed for a comforting cushioning effect to your back and improves your posture. It is conveniently portable and can nicely fit in cars, trucks, and R.V.s. Purchasing yourself a BackShield is a profitable investment for your lifetime. Use our code at checkout: MTY10
In case you don't want to buy lumbar support, you can roll a towel and place it in the back near the lumbar vertebrae. But take it from me, it won't work like a BackShield. 
Mirror Positioning
Position your mirror at the right angles to avoid unnecessary twisting and turning of your neck and back. And when you look out at your mirrors use your whole body, look at that mirror peek as a movement for your body too. 
Other Important Points
Take small intervals
If you travel a long distance, it will help your body relax from stiffness in your muscles. Stretch your body, walk for a few minutes, and restart your journey.
Hydration
Keep yourself hydrated on your way. Generally, our mind and body are on autopilot mode while driving, and our blood pressure tends to lower down a bit, and we start to feel off. To maintain your blood pressure, you need to hydrate your body frequently to stay in a conscious state and a good mood.
Music Therapy
Listen to your favorite music album. It will help your nerves to calm down and relax your entire body.
Fuel your body
Don't let your stomach starve. Give it proper nutritious food because, "When the tummy is happy, nothing is crappy!" when you are in a good mood, it will fight the stress hormone released in your body.
Drive Safely
Last but not least,
"Drive Cautiously"
"Follow the traffic rules."
"Don't get a ticket for speeding."
Being fit is not an overnight change. And in my mind, it's not based on weight, size, or gender. It's based on how you feel. So ask yourself: "how do I feel?" And don't be afraid to answer. So many people deny that they need to work harder, improve themselves, and pay more attention to their fit-ness in life. These road rules are meant to help you see the options available. You probably noticed that the rules above are not based on squats or hundreds of push-ups daily or running a couch to 5k. These are rules to help you improve the quality of your life! 
See more clearly where the road is taking you. 

See more clearly where it is you want to go. 

See more clearly how easy it can be to change lanes in your fitness and health. 
This post is sponsored by:
Bud and Tony have known each other for over 50 years (brothers – from another mother you could say) and have been in business together for over 30 years. They have always believed in our economy thriving and work hard to make sure it continues upward. They both know the trucking industry has and will continue to be the backbone of our economy. With this in mind, they came together to be a part of this ever-growing, ever-changing but steadfast, and traditional business that will always keep moving American and the world forward.
https://www.mothertruckeryoga.com/wp-content/uploads/2020/09/6-rules-for-over-the-road-fitness-Blog-Mother-Trucker-yoga.jpg
720
1280
pbeue
https://mothertruckeryoga.com/wp-content/uploads/2018/02/MTY-Icon.png
pbeue
2020-10-01 15:04:52
2020-10-01 15:05:27
6 Rules for Over the Road Fitness