Have you ever tried to get sleep while traveling over the road? If so then typically bedtime is not something you would describe as bliss by any means.
But what if there was something you could to to help even just a little bit, take the edge off falling asleep?
Would you try it?
What about for one week, seven nights, to see if it would help you fall asleep?
It can be difficult to sleep anywhere, but when your sleeping quarters consist of a small cubicle on wheels parked next to an idling truck or busy highway. It can be even more difficult.
I have been working with individuals for nearly 20 years with all sorts of ailments, issues and concerns and sleep is one of the top complaints. Yoga or yoga like practices can help dramatically help those choosing to practice fall asleep faster and sleep more restful.
We all need a few minutes each day to decompress, clear our mind, but even more so, stretch and relieve tension from our physical body.
When we choose to not do those things it can be difficult to turn our mind off, relieve that nagging back pain that will keep you up all night. And most importantly we all need some sort of practice to help our central nervous system relax and reset as well.
Or we may end up reliving today, tomorrow all over again.
Here are Mother Trucker Yoga's Top 7 Moves For a Better Sleep Over the Road:
Bedtime Yoga Pose #1: Standing Stress Relief Forward Bend
With soft knees, exhale roll your body forward clasping opposite elbows, allowing your head to hand heavy.
Remain here with your eyes soft (or closed) for five to ten breaths. Inhale, gently roll up.
Bedtime Yoga Pose #2: Daily Devotional
Feeling gratitude for the day exhale, sit back towards the heels, knees as wide as comfortable, outstretch the arms and relax the head, feel your breath and you continually soften your entire body from the day. Remain here up to one minute. (Feel free to place a rolled blanket or block between the heels to sit on)
Bedtime Yoga Pose #3: Bound Angle Bedtime Back Stretch
Place the bottoms of the feet together.
Exhale roll your body forward allowing your arms to reach outward feeling length and release through your hips and entire spine.
Don't worry about how far you can fold or reach.
Remain here breathing calmly for up to one minute.
Bedtime Yoga Pose #4: Driver Hip Flexor Release
Place block or stack of hand towels or even a pillow placed under your sacrum.
Gently draw your right knee in to your chest as you reach out through the opposite heel.
Working to keep your hips stable. Feel length and release in the hip flexor (front of the hip), remain in the stretch breathing calmly for up to one minute.
Bedtime Yoga Pose #5: Bound Angle Bedtime Bliss
Place a block or stack of hand towels or a pillow under the sacrum.
Let the knees fall open and the bottoms of the feet come together. Adjust the feet from the pelvis to accommodate the knees.
Breathe deeply and your body falls away from the stress of the day. Remain here for one to two minutes.
Bedtime Yoga Pose #6: Taming Tension Release Breath
Seated, draw the arms outward from your body.
Inhale through the nose and mindfully drop your breath into your heart.
Retain the breath and silently repeat "I willingly and consciously release all harmful tension".
Now exhale visualize the tension rolling down the arms and out the palms like toxic waste.
Repeat this for three to six times and then take three to six natural breaths. Repeat as necessary.
Bedtime Yoga Pose #7: Full Body Bedtime Breath
Lying on the floor or in your bed, separate your legs and turn your palms to face up; inhale and imagine drawing the breath up through your feet, legs, pelvis, abdomen, throat and to the crown of the head.
Exhale and draw the breath back down the entire body being mindful of each body part the breath travels through all the way out the bottoms of the feet. Repeat this three to ten times feeling more and more deeply relaxed.
And make sure you are doing this on a quality mattress. Because every driver deserves a better bed. Good night!
You may have read this and are thinking "I can't do yoga". Then I want to encourage you to not look at it as yoga. But look at it just like brushing your teeth. The long term effects of not brushing your teeth are, you will lose your teeth.
The long term effects of not giving yourself even just five minutes of stress relieving, sleep educing activities will leave you sleepless, agitated, and at risk of getting into an accident because you are not fully able to drive that eighteen wheeler down the road safely.
To help you even further check out Mother Trucker Yoga's audio made just for relaxation of body and mind.
And for reading and sharing this blog post you can grab it:
>>>HERE<<<for FREE by using the code: MTYSLEEP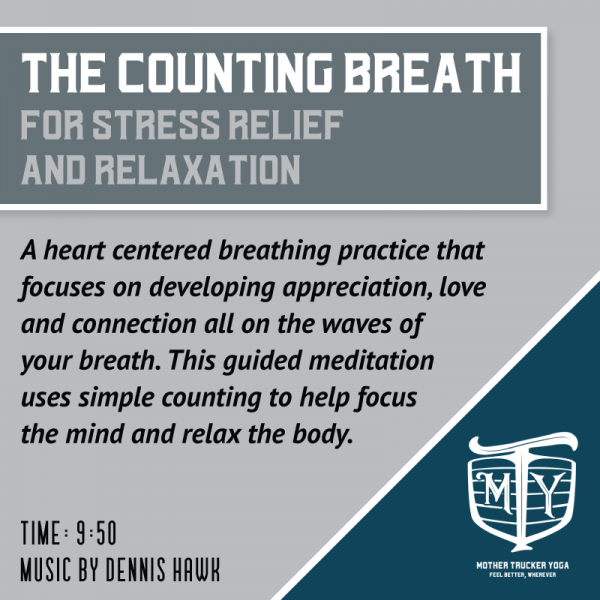 https://www.mothertruckeryoga.com/wp-content/uploads/2019/06/Better-sleep-over-the-road-blog-post-mother-trucker-yoga-.jpg
400
400
pbeue
https://mothertruckeryoga.com/wp-content/uploads/2018/02/MTY-Icon.png
pbeue
2019-06-24 09:00:11
2019-06-25 14:47:53
Sleep Over the Road: 7 Yoga Poses for Bedtime Bliss