Hey there, road warriors! You are the lifeline of America, keeping our shelves stocked and our economy thriving. Without you, we'd face empty supermarkets in a matter of days. We know how long hours, endless miles, and cramped spaces make maintaining a healthy lifestyle seem nearly impossible. That's where Mother Trucker Yoga comes in. Let's explore how our approach to truck driver fitness can lead to industry success.
Life on the road can wear you down. We understand you can't always find a well-lit, safe parking spot to exercise outside. Adapting traditional gym exercises to your over-the-road lifestyle can be challenging, leading many drivers to abandon fitness altogether.
We also know that truck drivers face unique challenges due to the CONSTANT sitting and the abrupt, labor-intensive movements sometimes required when loading and unloading. With 50% of truck drivers being obese and countless others suffering from back, knee, and hip pain, it's clear that a fresh take on truck driver fitness is needed.
DOT (Department of Transportation) requirements are only getting stricter. Drivers with health issues, such as elevated blood pressure, sleep apnea, or extreme obesity, risk losing their licenses and jobs. But don't worry, friends. Mother Trucker Yoga empowers you to take control of your health with small, achievable steps.
We know there's a lack of fitness resources designed just for truckers. So, we've created a unique, relatable approach that understands YOUR lifestyle. We aim to make fitness accessible for you, showing you how to move more with simple, practical exercises designed specifically for drivers.
Mother Trucker Yoga's secret sauce? We ditch the all-or-nothing commitment and focus on your major pain points. We empower you to use your driver's seat, sleeper, and the area next to your rig as your personal gym.
Our approach is practical – No props. No tools. Just you and the exercises you can do while waiting to load/unload, filling up on fuel, or even driving. We believe one breath, move, or minute spent on your fitness can reduce pain, improve mobility, and make you feel better.
Anyone can if truck drivers can turn their health around despite limited space and time. So, let's hit the open road, rev up those engines, and pave the way to a healthier lifestyle. Together, we'll steer truck driver fitness for industry success, one mile and one exercise at a time.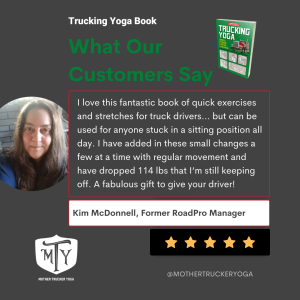 https://www.mothertruckeryoga.com/wp-content/uploads/2023/09/BLOG-IMAGES-7.png
720
1280
pbeue
https://mothertruckeryoga.com/wp-content/uploads/2018/02/MTY-Icon.png
pbeue
2023-09-06 03:01:32
2023-09-06 03:03:27
Truck Driver Fitness for Industry Success: Finding Wellness on the Open Road