7 Essential stretches as a truck driver.
You are expected to sit in uncomfortable durations as a truck driver. On the surface, comfort is what you seem to be sacrificing, but it runs deeper than that. Constant sitting with minimal mt or exercise can be quite detrimental to your health. You must include a trucker workout in your daily routine to fix eight. This article tells you 8 essential stretches for a truck driver workout regime!
Essential Stretches to Practice
1. Shoulder Pull
Shoulder pulls are effective for the tension in your shoulders. When you feel stress gathering in your shoulders from sitting upright while driving, place one arm straight across your chest and pull it with your other arm.
2. Neck Rotation
Before your neck is so stiff you can barely move it, try including neck rotations in your trucker workout. You can start by taking your hand over your head and holding the opposite ear gently, pulling it towards the shoulder. This releases tension in your upper shoulder and neck, regions that quickly strain due to extended driving hours. 
3. Wrist Bend
Wrist bend is the most accessible form of stretching you can do right in your driving seat and enjoy its effectiveness. It can help you relax your forearms and your wrists. Wrap your fingers on the steering wheel and move your wrists forward and backward. And if you are outside your rig, try placing your palm on the side of the truck with your fingers pointing down and stretch your wrist while you fill up with fuel.
4. Classic Lunges
Lunges are known for being a great exercise option regardless of the goal. If your goal is to stretch, lunges can be your best friend. Take a giant step with one leg and bend that knee as long as you are comfortable. You must maintain a symmetrical position and not extend the knee from the toe. Repeat this slowly with the other leg. Doing so will show you drastic improvements in your overall flexibility and muscle retention.
Try this on the step of your truck, and don't forget you can use support like a chair or even the side of your truck for better balance.
PRO TIP: If you have sore knees and lunging is hard, try knee lifts instead. Standing tall, use support as needed, and try to lift one leg in front of you to belly height. As you lift, do not round your torso; feel your glutes contract.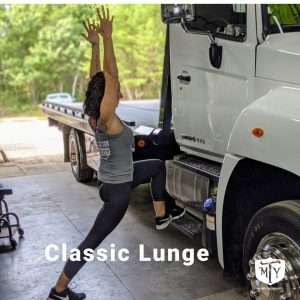 5. Chest Pull Neck Stretch
Press both hands on your chest and move your head away from your wardrobe. This exercise feels like a relaxant as you enjoy a stretch in your neck and chest regions. Chest pulls are great for unwinding before bed after a long day of driving. And work amazingly well for keeping the elasticity in your neck as you age. Plus, if you have upper back pain, you need to do this stretch.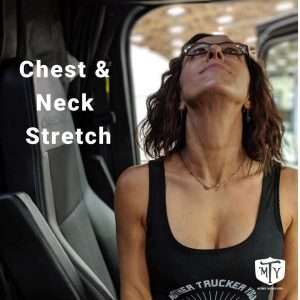 6. Arm Rotation
Arm rotations should be part of a truck driver workout regime that can be done whenever you step out of your vehicle. Placing one palm straight on your truck side, rotate yourself away from the truck with a slightly bent arm. Repeat this with the other arm. 
If you are inside the truck, sit on your bed and reach up overhead and as you lean to the right and reach to the right, press into your left hip to create a deep stretch in the underarm to help improve shoulder mobility. And don't forget to focus on rotating your arm inward towards your face from the shoulder socket to enhance the stretch.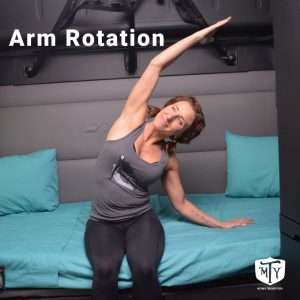 7. Quad Stretch
Stand straight for a quad stretch and watch it erase any muscular tension in your body. Raise one leg behind yourself and reach to grab that leg right above the ankle, and pull it towards your middle body. Hold yourself in that position and repeat with the other leg.
PRO TIP: If it is difficult to clasp the ankle behind you, try looping a belt or a towel around the ankle and pull up. Or place the top of the foot onto a chair and stand tall.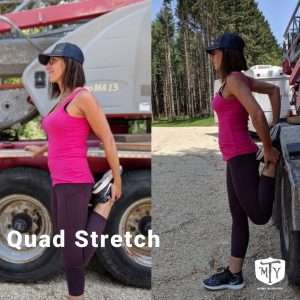 Conclusion
Taking time off the road to provide your body with its necessary movement is essential for your wellbeing. Take the time to practice these stretches as a truck driver workout regime when you spend time away from the driver's seat. With this trucker workout, you can engage your entire body in exercise and stay far from life-altering medical conditions.
https://www.mothertruckeryoga.com/wp-content/uploads/2022/07/Travel-Fitness.png
1080
1920
pbeue
https://mothertruckeryoga.com/wp-content/uploads/2018/02/MTY-Icon.png
pbeue
2022-07-05 15:06:34
2022-07-05 15:08:50
7 Essential Stretches for Truck Drivers