Have you heard? RoadPro Family of Brands has kicked off a drivers only private forum (chat room) where truck drivers can come ask questions, answer questions and hang out with fellow drivers in a virtual setting. This isn't a place to complain or post rude comments, but rather a place for drivers to motivate one another, give and receive great information, take fun quizzes and win free products and swag.
RoadPro launched this online offering back at GATS (Great American Truck Show) back in August 2019 inviting drivers to come and join.
"I love the idea of BreakTime for truck drivers as it gives those who may not be on Facebook a place to connect with other drivers and say up to date on what is going on. I know I am not a driver and never claim to be one. However with nearly 20 years in the fitness and yoga world and a traveler myself, I get it. I grew up around the trades, and had drivers, family members of drivers and company owners of trucking outfits all as students over the 14 years I owned and operated a yoga studio in my home town. I have a real passion for helping drivers and am excited to help inside BreakTime. My expertise is movement, fitness, and lifestyle. My focus is making it super-duper easy, accessible, quick and fun." -Hope Zvara
Ask questions, gain insights, inspiration and a kick in the pants to start your health and fitness journey over the road alongside Mother Trucker Yoga and Hope. Have back pain? Neck pain? Stressed? Can't sleep? Wondering where to start? Hope will answer all those questions and more. But for now you can check out one of Mother Trucker Yoga and Hope's recent blog posts all about back pain.
On Tuesday, January 14th 2020 at 7pm EST
(6pm CST, 5pm MST, 4pm PST)
Come join Hope Zvara, CEO of Mother Trucker Yoga for a private chat, Q & A and some fun giveaways inside BreakTime.
To join it's fast and easy, no need to give your blood type, your first born child or take out a small loan (insert humor) it's FREE to drivers.
At Mother Trucker Yoga we hope you come join in on the fun over at BreakTime with Hope. There are already questions posted waiting for your comments in BreakTime for Tuesday nights chat!
See you there!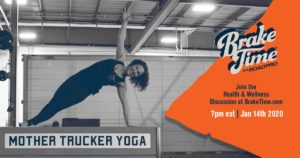 https://www.mothertruckeryoga.com/wp-content/uploads/2020/01/BreakTime-Health-and-Wellness-Discussion-.jpg
600
1068
pbeue
https://mothertruckeryoga.com/wp-content/uploads/2018/02/MTY-Icon.png
pbeue
2020-01-12 09:00:58
2020-01-11 19:34:23
BreakTime: Fitness Time with Hope Zvara