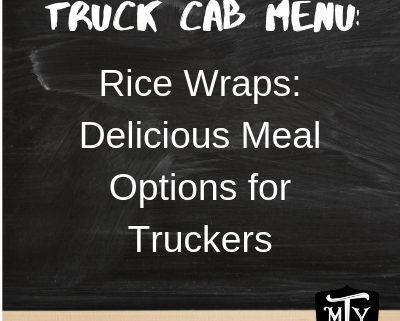 Rice Wraps are a delicious meal option for anyone, but for a trucker on the go it is the perfect meal option no matter where you are.
Eating healthy can feel complicated at times, but when you remember vegetables and fruits combine with lean proteins first, eating can get a lot simpler. And when looking for meal options for anyone it is vital that you also look to the ingredients list.
How may real ingredients are there listed on the package. And in the case of rice wraps, there is no wrapper except for what you are about to eat.
As someone who by choice does not eat much meat, I was on the hunt for something fun, healthy and easy to make. Plus when I travel I wanted to have something that wasn't going to be messy or smelly or complicated to eat.
Rice wraps are delicious and anything goes when making your wrap.
Make a dozen at home and pull them out when you are looking for a quick meal option. Or make them on the truck for a no fuss meal.
Try pre-cutting your veggies, and if considering adding meat or tofu, pre-cut it into skinny strips to easily add to your rice wraps when you settle in for the night.
Delicious Rice Wraps Recipe:
1 Handful of Spinach
1 Tablespoon of hummus or mashed avocado
4 slices (skinny) red bell pepper
4 slices (skinny) carrots
4 slices (skinny) zucchini
2 slices onions
Optional: 1-2 slices of chicken, tofu, or pork, or crab meat
Try seaweed as a wrap as well
Soak rice wrap in cool water for 8-10 seconds (use a plate or circle dish/pan).
Remove from water and place on wet counter or plate/cutting board.
Put a layer of spinach down on the rice wrap, then hummus, then veggies/protein.
Roll like a burrito. Wrap will stick together as it dries.
Eat with your favorite dipping sauce: sweet and sour, bragg liquid, or balsamic vinegar, oil and honey.
And don't forget that eating with a fellow trucker is always more fun. Offer someone else a rice wrap and dine together with these delicious rice wraps make fresh, made simple, made delicious.
For more recipes like this check out Living in Rawality Cookbook!
Worried about breakfast? No problem we have you covered with our delicious and healthy granola recipe!
Remember, don't over-complicate healthy eating or healthy living. Just take it one day at a time and one meal at a time. And before you know it! You will be fueling yourself in the best way possible! And you will feel the difference!
https://www.mothertruckeryoga.com/wp-content/uploads/2019/05/Rice-Wraps-Delicious-meal-options-for-truckers-blog-post-Mother-Trucker-Yoga.jpg
400
400
pbeue
https://mothertruckeryoga.com/wp-content/uploads/2018/02/MTY-Icon.png
pbeue
2019-05-27 09:00:45
2019-05-09 15:25:15
Rice Wraps: Delicious Meal Option for Truckers