Operating a truck day in and day out takes a toll on a person's body. It's not a secret that if you are a trucker, you sit a lot. It's just the nature of the job. Stops to move around and stretch usually don't happen. There just isn't time for it. Then there's the heavy lifting and loading and unloading of cargo. All of these things combined create the perfect storm–for back pain.
Unless you have ever suffered from back pain, you can't really even begin to imagine what it feels like. Every move you make is a painful reminder of the toll that driving truck has taken on your body. Plus, if you don't have a Backshield yet, you've GOT to get one! It will save your back from a lot of pain in the first place. Get 10% off at checkout when you use my link!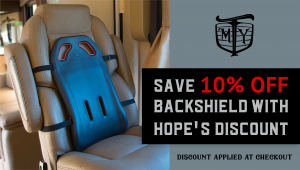 Unfortunately, at some point, every trucker is going to experience some sort of back pain. BUT there are simple movements you can do to help keep your back in the best condition possible.
Try these FOUR tips to help improve and/or alleviate your lower back pain.
1. Pelvic Tilts
Pelvic tilts are my #1 go-to move for just about anyone with lower back pain. Pelvic tilts are a super simple movement that you can do WHILE DRIVING. Pelvic tilts require you to tip the pelvis back and forward at varying degrees to help release tightness and also build resilience and strength in the pelvic area, lower back and abdomen. They are a simple yet effective exercise for those seeking back pain relief.
2. Strengthen Your Core
Your core strength is vital in maintaining back support and reducing back pain, yet few really truly understand where their core is, how to access it and how to safely use it. When you are in pain the last thing you want to do is hurt yourself again, so starting small is essential, but that doesn't mean it's not powerful. Bracing is a position or movement that teaches us how to co-contract our core (contract our entire core muscles simultaneously), that does not require us to suck in our push out. Bracing give us the strength and a feeling for what it is like to use our core in everyday life, exactly what we need to do in the future to not end up here again.
3. Roll It Out
Using a soft foam roller allows us to access various levels of tissues in our bodies. It is often said that by using a foam roller, one can reduce the tension and pain in several areas of the body. Foam rolling allows us to release the "snag" and move the tissues (fascia, muscle, connective tissue) around in a way that will make it more pliable for movement and more user-friendly for stretching.
4. Stretch
I have been working with individuals for nearly 20 years with all sorts of ailments. Yoga is a mind-body therapy that's often recommended to treat not only back pain but the stress that accompanies it. More specifically, addressing your hip flexors through yoga is vital to getting to the bottom of lower back pain. When our front butt is tight it can enable our back body to go haywire. Unlocking your hip flexors and psoas will not only help you feel relief in the lower back (and hip flexors) but also releasing your psoas– due to the nature of our psoas attaching into the diaphragm and ribs, is linked to better breathing as well.
These simple tips could be the changes you need in order to put back pain in your rearview mirror for good. I challenge you to add them to your routine today!
https://www.mothertruckeryoga.com/wp-content/uploads/2020/02/MTY_BlogImages_BackPainInRearView_V1.png
600
1068
pbeue
https://mothertruckeryoga.com/wp-content/uploads/2018/02/MTY-Icon.png
pbeue
2020-02-18 07:00:38
2020-03-04 19:39:27
Put Back Pain in Your Rear-View Mirror