Over time many of us collect fitness favorites and pile them in a corner to pull out whenever you want when you spend most of your time at your home. But for those that travel a lot and those that live over the road like a truck driver or even someone living the RV life, it is essential to consider what you need to keep you healthy. 
If you are living out of a backpack, a suitcase, or the cab of a truck, that lifestyle choice does not make it any less important to find time for fitness. But it does make it a bit more challenging to decide what to bring with when it comes to a workout or fitting in fitness each day. 
A lifestyle that keeps you on the move all the time can leave you feeling like working out seems like a chore or too complicated to take on. That's mostly because everyone assumes that you need a lot of equipment and time to get yourself fit. But the truth is, you need a few basic things to stay fit while you're on the road. 
As a trucker, it can be quite challenging to take out time to hit the gym every day as you're on the road most of the time, and let's be honest, pulling in an eighteen-wheeler to a strip malls parking lot is not always an option. To ensure that you're on top of your fitness game, keep some basic things on hand to exercise whenever you get the time. Here, you'll find some basic yet essential things to keep with you to help you stay physically fit. 
When I travel, I try to consider how much space I have to pack extras, what is the area I will have to do something, and what do I want to spend my time doing? One of the things I teach our drivers at Mother Trucker Yoga is you don't need to overcomplicate fitness to be fit. Others tell you that you need their fancy, complicated and expensive equipment to stay healthy, but I'm telling you that it's as simple as one, two, three, and you are off to the races…well off to a workout when you work with us. 
Five Things You Need to Exercise While They Travel:
1. Sneakers
Sneakers are essential to exercising. You might think that you can get it done with any shoes on, but that's not true. Make a habit of keeping a pair of sneakers with you in your truck at all times. This way, whenever you get the chance, you can pause and get your daily exercise in using the most basic equipment that you can think of. Ensure that the sneakers you choose are comfortable, fit securely to your feet, and aren't full of foam. Yes, I said foam, it may seem like a great idea to wear a shoe all day long with pillows in the bottom, but our feel needs to feel the ground beneath us. They need to move and be stimulated when we walk. 
Wear your steel-toed boots when you don't want something to drop and damage your foot. Wear flexible, bendable shoes when you want yourself also to be flexible and bendable. 
I personally love ASICS, New Balance, Merrell, Brooks, and Under Armor. And when buying a pair of shoes, make sure you can try them on, walk around in them, and how they fit. This is a device that will be carrying your body around all day long. Don't you think it should fit, right?
2. Travel Yoga Mat
Another essential item that you will need to assist you in your workouts is a travel yoga mat. They're lightweight and don't take up much space at all. They're essential as they provide you with the right surface to do your exercises on. Since there's very little space for you anyway, you can take the yoga mat outside and start working out on it, without having to worry about hurting your body. There are all different brands of yoga mats to consider, and some of my favorites are Jade, you can get it in various lengths, widths, and they are made out of recycled materials. When traveling, because you don't know what the surface you will be exercising or practicing yoga on making sure your yoga mat is heavy and has enough traction, it won't slip. So you don't slip. 
3. Resistance Bands
Can't get yourself to carry weights around with you as you drive your truck around? Who wants to stuff a set of hand weights in their suitcase when they travel around? Well, guess what? You don't necessarily need them. Instead, you can invest in some resistance bands that can help you keep your body in shape. Resistance bands are great for strength training and can help you maintain your physical health. You can find some excellent resistance band kits at Mother Trucker Yoga to help you keep yourself fit. 
Resistance bands are a great way to tone up, build muscle, and strengthen joints. Different than using weights, resistance bands build up the connection between muscle and bone, rather than focusing on building bulk. When shopping for resistance bands, make sure you get a high-quality material like one made for medical use or at a physical therapy quality level. Make sure they are cut to a minimum of 6-feet, so you can do endless exercises. And you'll want to get a door loop so you can double the number of activities you can do right from the door of your ride. 
Not sure where to find that. No stress Mother Trucker Yoga has that all figured out for you! Check out our band kits in their convenient travel bag and get our 11 page PDF guide so you can get to moving ASAP.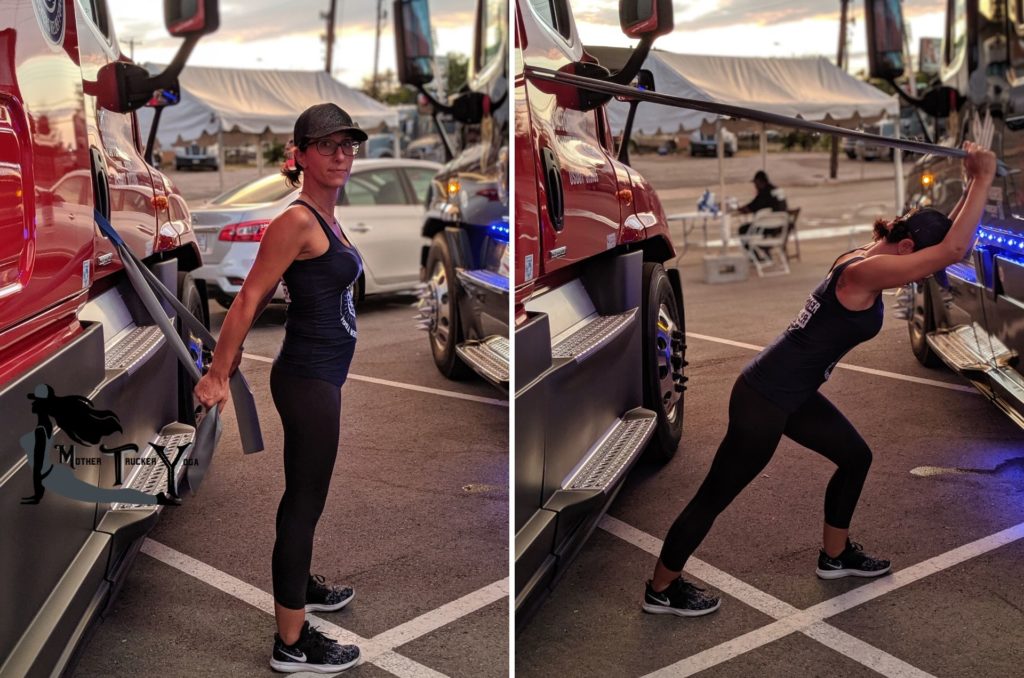 4. Smartphones
Smartphones are things that everyone has nowadays. They're essential even if you're not into fitness. So, all you need to do with your smartphone is to help you place reminders about when you should exercise. You will also be able to watch videos on YouTube or read up on exercises that you can easily do while you travel. 
5. Bicycle
Cycling is a natural and essential physical activity that helps you keep in shape. You can easily place a bike in your truck that you can use when time allows you to. Get your bicycle out and not limit yourself to only views of the landscapes you see. Go out and explore all the routes that you wouldn't be able to otherwise. Not only will you get your exercise in, but you will also feel much more refreshed than ever. 
Are there ways you can mount your bicycle to your truck? We've seen some great ideas from drivers mounting kayaks, bikes, and more to their rigs so they can stay active. We know you can too!
Don't miss out on your exercise just because you're always moving. Try to come up with ways to make sure that you incorporate some activity. Hopefully, the next time you're out and about, you'll be able to get your exercise in without having to worry too much about the equipment! 
https://www.mothertruckeryoga.com/wp-content/uploads/2020/06/travel-exercise-top-things-you-need-to-have-blog-post-mother-trucker-yoga.jpg
720
1280
pbeue
https://mothertruckeryoga.com/wp-content/uploads/2018/02/MTY-Icon.png
pbeue
2020-08-01 06:00:14
2020-07-06 17:08:31
Travel Exercise: Top Things You Need To Have