The idea of being "mindful" is now just as common language as "ya all" or "selfie". What used to be the art of paying attention has morphed into the art of mindfulness. But what exactly is mindfulness? But what does mindful mean? And I know what you are thinking. I'm not about to ask you to wear yoga pants, sit on a yoga mat, and chant the night away (although it might do a few people some good).
Dictionary.com says
mindfulness
Is the state or quality of being mindful or aware of something.
Psychology.
a technique in which one focuses one's full attention only on the present, experiencing thoughts, feelings, and sensations but not judging them:

The practice of mindfulness can reduce stress and physical pain.

the mental state maintained by the use of this technique.
The simple art of paying attention, being alert, present, and aware in a non-judgemental way. In yoga and mediation part of the practice is to observe, notice, and just take in. For most of us, we cannot help but float back into the past and drift off into the future when various things arise. The idea of replaying what happened, or predicting what will all while mixing in our feelings with what is.
To me, mindfulness is the practice of separating from all of that. Not to be dull and lacking in life. But the opposite. The art of seeing, feeling, and being a part of what actually is. I believe that nearly all frustration comes the moment we step out of them now. Mindfulness says stay with me, breathe and take it one breath at a time.
Mindfulness also asks us to be kind. To be kind to ourselves, to others, and to the world. [Check out The Daily Meditation and what Hope had to say about Gratitude…]
One of the best ways to practice mindfulness is to apply this idea to the little things. Because it's the little things that add up to big things over time. If you don't want cavities when you are older, focus on brushing your teeth today, and when brushing your teeth, do just that. Treat your teeth, the action of brushing with the utmost reverence and importance. And notice how you feel afterward.
4 Simple Steps to Mindfulness
1. Start now. Start simple.
Many people decide to step into mindfulness and create this elaborate plan of how they are going to meditate 20 minutes twice a day, and go for long nature walks, and do an hour of yoga daily. Adapting all those things has never done any of them, even in the slightest is a recipe for failure. Most won't even get out of the gate and decide that it's too much. I prefer to focus on keeping things KISS: Keep It Simple Stupid. Now I'm not insulting your intelligence, but rather suggesting we start simple.
Instead of starting to apply the practices of mindfulness when you are the most stressed, the most overwhelmed, the most distracted. Start when it's easy, when and where you don't have to change much of anything. When you brush your teeth, only brush your teeth. When you go to the bathroom, just go to the bathroom (I know crazy right). When you are cooking, or eating just do that one thing. Pay attention to every aspect of it. Be present. You may be surprised by how you feel after. Taking an everyday task you already to and turning it into a mindful one.
 2. Approach With An Open Mind.
We as humans like to predict. We like to know all the answers… Well most of us do. And I want to challenge you to approach one situation each day for a week with a completely open mind. Notice if you start to predict how the situation will play out in your head before it's over. Take note if your mind has already predicted the future before anything has even happened.
Take inventory of your feelings before, during, and after and how do you feel? For me, the practice of mindfulness is not sitting on a cushion in a dark quiet room. Mindfulness is me being more present, more alert, more aware, and more engaged in what I am doing, how I am feeling, and despite all of that continuing. Mindfulness has given me more confidence in hard situations, ones I would normally avoid otherwise.
3. FOR Peace Breathing.
Pause F.O.R. Peace Breathing was introduced to me when I first started on my yoga journey. It wasn't fancy, it wasn't complicated, and it didn't require any equipment. All it needed was you and your willingness to step back and breathe.
When you stop and take a breath in a stressful situation, you stop the hormones released by the sympathetic nervous system (fight or flight response) and start to live again. It is a simple tool that you can use every single day to prevent and release stress when it starts to bubble up.
Pause F.O.R. Peace Breathing un-complicates what our minds often make complicated. It makes you STOP and use the tool you were born with to deal with stress in your life.
What Does "F.O.R." in Peace Breathing Stand For?
1. FOCUS
Focus on one, long, deep breath. Inhale deeply, feeling your diaphragm and belly expand (not your chest). Exhale through your nose or mouth for the same count, or longer. Be fully conscious of this breath.
2. OBSERVE
Observe your mind. Does it wander during this breath? Where does it go? Can you try again to be right here, right now?
3. REFOCUS 
Refocus if you need to. Bring your mind back to your breath. If your mind wanders, return to one deep breath.
4 Ground yourself physically.
Sounds silly, but we are all a part of something greater than ourselves. And science has already proved that we are all made up of energy. And when we are in nature our bodies have a way of restoring that energy within us with the positive energy around us. Ever been around someone who you felt like just zapped the life right out of you? Have you ever gone into a building, or slept somewhere were you just felt drained the next morning. Or the opposite. You are around someone who just lifts you up. Or slept somewhere and said that was the best night's sleep ever. That might not be a coincidence.
Today, take inventory of who and what you surround yourself with. If all you do is spend time in a concert jungle, it might be time to step out into nature. Pull off at an oasis with a small park or grassy hill. Layout in the sun, or take a bit of time and reconsider who you surround yourself with. Being mindful asks you to do things with a purpose. And that purpose may be for you to take better care of you.
Take the Mindfulness Challenge!
Do you want more practical tips for being more mindful and peaceful in a stressful world? Join our 5-day Mindfulness Virtual Challenge September 7-11, 2020! Click HERE to sign up to join us!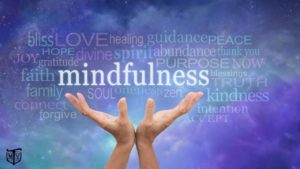 Continue down the mindfulness path to a happier and healthier you with some of Mother Trucker Yoga's other great content!
14 Ways to Reduce Stress and Overwhelm Blog
10 Tips for a Functional Body Blog
10 Steps to Goal Setting as a Truck Driver
Did you love this article?
Leave us a comment on what you thought. Or ways you work to stay more mindful.
https://www.mothertruckeryoga.com/wp-content/uploads/2020/08/Mindfulness-Blog-Mother-Trucker-yoga-1.jpg
720
1280
pbeue
https://mothertruckeryoga.com/wp-content/uploads/2018/02/MTY-Icon.png
pbeue
2020-09-02 07:00:32
2020-09-07 18:53:41
4 Simple Steps to Mindfulness In A Stressful World