If you're a trucker and on the road a lot of your life, there are numerous health issues you might experience. Here are some of the common health problems and the best solutions. 
Obesity 
Truckers obviously spend a lot of their working life sitting in a car seat. So, it should be no surprise that obesity levels are high among these workers. 7 out of 10 truckers are obese in the USA according to some studies so this is definitely a common issue. You need to make sure that exercise is part of your regular routine. There are some
easy exercise ideas
to explore so you don't need to hit the gym. About 15 minutes of exercise each day will make a massive difference here.
Lung Cancer
A tremendous 60% of truckers in the USA smoke according to the latest research. It's not clear why this is although it could be a way for individuals to cope with the stress of this job. It might also be something to do with socio-economic factors. Regardless, it might be time to start thinking seriously about quitting. These days, it's easier to quit smoking than before. You should consider taking up vaping. It provides the same physical process as smoking without the harmful chemicals so it's a good substitute. You can also use it to gradually reduce your nicotine intake until you hit zero rather than going cold turkey. 
Sleep Apnea
You probably won't be aware if you suffer from sleep apnea but your partner or anyone who you sleep with will have noticed it. It caused you to stop breaking temporarily and repeatedly through the night for several seconds at a time. This can be quite alarming for anyone sleeping next to you and the stress on your body will leave you exhausted the next morning. If you suffer from this condition, many countries won't even allow you to drive. Surgery can fix this issue however you can also reduce it by changing your lifestyle. Drinking alcohol, smoking and obesity all increase the chances of experiencing this condition. 
Problems With Sleep Routines 
As you have probably learned, it's difficult to keep a traditional sleep routine as a trucker. The hours that you work can be crazy. You might wake up at 4 in the morning to arrive home around 2 when you will be exhausted and almost immediately fall asleep, waking up at 9. It's a weird pattern for your body to be in and you're right in thinking this can play havoc with your health. If you're working long hauls you need to make sure that you're using stop-off points where you can get a proper rest with a bed. You should also speak to your employer about getting your schedule in advance. That way, you can prepare a plan and ensure that you are gaining the rest you need while fitting in personal time for you to enjoy. Remember, downtime is still going to be important when you are a trucker.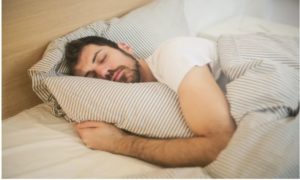 Depression And Isolation 
There are certain professions and jobs where mental health issues are more common than others. For instance, you might be aware that doctors are more likely to experience depression than virtually any other professional worker. However, truckers also face issues here and the reason for this is quite simply the level of isolation. Some truckers took the job on because they love the peace and serenity of being on the road. Many are trying to escape the challenges of life at home but others simply aren't prepared for the sheer level of isolation that they experience. It's important to stay in touch with people, even on long haul trips. Tech is your friend here and while you can't keep in touch on the road, you can video call friends, families, and loved ones when you're stopped. Or, if you're single, you can check out some dating apps to form new connections. 
Issues With Nutrition 
If you have spent a lot of years on the road, you're probably already familiar with the issue of eating healthily. When you're trucking, you have to grab food where you can find it and this is usually going to be a fast-food joint on the highway. The problem is that these places and meals will not provide the nutrition you need to keep your body healthy. There are of course ways to deal with this problem. For instance, you can pack lunches to take with you. Don't forget that if you're not getting the right level of nutrition, levels of immunity will be significantly reduced. This is going to make it far more likely that you do develop serious diseases. 
Don't let common health issues those in the trucking industry face get you down. One small change at a time is the best way to see results in your overall health and wellness.
Read about some strategies to help you as a driver make fitness a reality:
https://mothertruckeryoga.com/2019/04/29/trucker-fitness-expectations-vs-reality/
https://www.mothertruckeryoga.com/wp-content/uploads/2021/01/Common-Health-Problems-mother-trucker-yoga-Blog-.png
720
1280
pbeue
https://mothertruckeryoga.com/wp-content/uploads/2018/02/MTY-Icon.png
pbeue
2021-01-21 15:58:08
2021-01-21 16:31:36
Tackle The Common Health Issues Truckers Experience Head-On