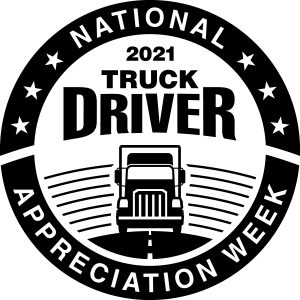 Truck Driver Appreciation Week may have passed, but we still want to celebrate! And what better way than to highlight some of our road heroes. We interviewed drivers and asked them questions about their lives to help others see how amazing and hard trucking is.
It's our truck drivers who keep our great country running strong. Many of these men and women go unnoticed, not because they aren't important, but because what they do doesn't live in a fancy building or doesn't require a cap and gown.
These men and women are out on our roads, carrying all our essential and non-essential products we want and love day in and day out. And here at Mother Trucker Yoga, it's not just trucking fitness that is important to us. It's the men and women whom we serve.
Meet Idella Hansen!
People call Idella MaMA ChooChoo on the CB.
QUESTION 1: How long have you been driving?
Answer: 52 years
QUESTION 2: What do you love most about being a truck driver?
Answer: First off it's not a job for me, it's a way of life, and I love all of it from customer service to do the hardbacks.
Idella works for IBI Security Transport.
DID YOU KNOW?
IBI is a full-service armored transportation company, operating in all 48 Continental States of the USA, Canada, and Mexico. IBI is a privately held company based in Woodside New York. IBI has been in operation since 1966. IBI is a full-service security company, operating Nationwide and in Canada and Mexico.
In 2001 IBI acquired Securicor Valuables Transport, Inc., a high-value, secured, "over-the-road" transportation company. IBI operates this division as, IBI Secured Transport, Inc. This is a national and international operation, with terminals in Trenton, New Jersey, and Salt Lake City, Utah.
Recognition Well-Deserved!
Back in 2017 Idella Hansen was nominated and chosen as citizen driver of the year.
Known for her signature red cowboy boots, her willingness to help her fellow drivers, her community, and her fellow women, Idella Hansen leads by example. Idella's ability and dedication have earned her the respect of her fellow drivers, and TA-Petro is proud to honor her as a 2017 Citizen Driver.
In 2013, TA-Petro launched the Citizen Driver Program to honor exceptional drivers who exhibit strong citizenship, community involvement, leadership, health and wellness, and safety. To date, 26 Citizen Driver Honorees have been named as the best of the best. Idella is one of five members of the 2017 class.
"Idella is a pioneer in our industry and is a great example of what the Citizen Driver Award was created to recognize. She exemplifies the qualities of the award by her words and deeds on a daily basis, and continues to be a shining example of safety, involvement, and passion within our industry," said Rick Ash, 2015 Citizen Driver Award Recipient, St. Christopher Fund Board Member, Former Chairman Trucking Solutions Group, Chairman Onramp to Health.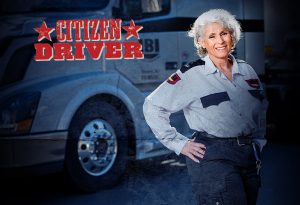 QUESTION 3: Trucking is hard. Why do you keep on trucking?
Answer: Because it's in my blood and it's pays really great, I work for a super company and they keep telling me not yet don't retire.
QUESTION 4: What do you want to say to new upcoming drivers in the industry?
The first year is the hardest. Be prepared to change your way of doing things.
QUESTION: What is your favorite truck stop?
Answer: Kenley95 North Carolina. I love the update and the facilities
QUESTION 7: What would make trucking easier for you and other drivers?
ANSWER: That the rules and state regulations would be more uniform
QUESTION 8: What do you do, if anything, to try to stay healthy on the road?
ANSWER: Mother Trucker Yoga and Rolling Strong and St Christopher's Trucker Relief Fund.
Idella had a final thought he wanted everyone to know.
We are the lifeblood of the Country and will be for many years to come, which helps us to do a good job. I will continue to truck until I drive it off the end of the world and beyond
What do you like most about the trucking industry?
Have a comment to share with Idella or our readers?
Please share it in the comments below!
Mother Trucker Yoga® wants to help 1 million drivers change lanes in their health and fitness by 2031.
To get involved with Mother Trucker Yoga's mission and help drivers just like you incorporate driver fitness into their lives.  Contact us!
Read our other Driver Spotlights:
VW Lady Trucker https://www.mothertruckeryoga.com/2021/09/14/mother-trucker-driver-spotlight-vw-lady-trucker/
https://www.mothertruckeryoga.com/wp-content/uploads/2021/10/MTY-blog-1.jpg
720
1280
pbeue
https://mothertruckeryoga.com/wp-content/uploads/2018/02/MTY-Icon.png
pbeue
2021-10-17 07:00:41
2021-10-06 16:11:32
MOTHER TRUCKER YOGA DRIVER SPOTLIGHT – Idella Hansen