Today in the Mother Trucker Driver Spotlight, we highlight VW Lady Trucker, who drives for Cetarus USA!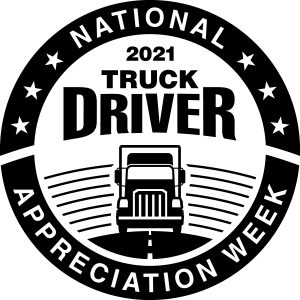 It's Truck Driver Appreciation Week, and we want to celebrate! And what better way than to highlight some of our road heroes. We interviewed drivers and asked them questions about their lives to help others see how amazing and hard trucking is.
It's our truck drivers who keep our great country running strong. Many of these men and women go unnoticed, not because they aren't important, but because what they do doesn't live in a fancy building or doesn't require a cap and gown.
These men and women are out on our roads, carrying all our essential and non-essential products we want and love day in and day out. And here at Mother Trucker Yoga, it's not just trucking fitness that is important to us. It's the men and women whom we serve.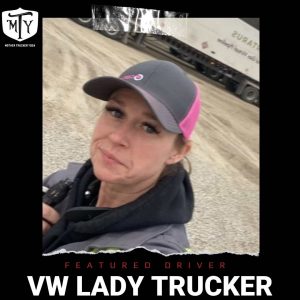 Meet VW Lady Trucker!
QUESTION 1: How long have you been driving?
Answer: 17 years.
QUESTION 2: What do you love most about being a truck driver?
Answer: The freedom!
DID YOU KNOW?
Women make up 52% of management across all occupations. Within the logistics industry, women compose 31.5% of employees in the warehouse and storage sectors, and within the trucking industry, women make up a growing 6.2%. According to the American Trucking Associations, there is a need for about 60,000 OTR truck drivers.
Recognition Well-Deserved!
Each year Real Women in Trucking gives out an award for "Queen of the Road," and Trucker VW Lady Trucker (pictured, right) accepting a special Queen of the Road award at GATS in 2019. She is pictured with award presenter Michelle Scolari, among award honorees in the current earlier-year round of this year's Queen of the Road program.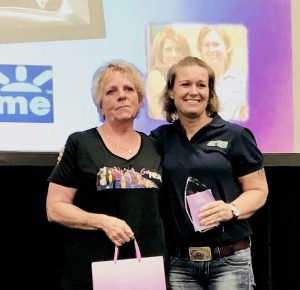 QUESTION 3: Trucking is hard. Why do you keep on trucking?
Answer: Long hours, but I love that paycheck.
QUESTION 4: What is your favorite truck stop?
Answer: I have so many. It's hard to pick just one.
QUESTION 5: What do you want to say to new and upcoming drivers?
ANSWER: Never give up! Even in the tightest spots!
QUESTION 6: What would make trucking easier for you and other drivers?
ANSWER: Better accommodations for parking and fewer government mandates.
QUESTION 7: What do you do, if anything, to try to stay healthy on the road?
ANSWER: Eat healthy as possible and park far away, so I am forced to get out and walk more.
VW Lady Trucker had a final thought she wanted everyone to know. Always remember to:
Smile! Meet a new friend.
What do you like most about the trucking industry?
Have a comment to share with VW Lady Trucker or our readers?
Please share it in the comments below!
Mother Trucker Yoga® wants to help 1 million drivers change lanes in their health and fitness by 2031.
To get involved with Mother Trucker Yoga's mission and help drivers just like you incorporate driver fitness into their lives.  Contact us!
https://www.mothertruckeryoga.com/wp-content/uploads/2021/09/mother-trucker-yoga-blog-2.jpg
720
1280
pbeue
https://mothertruckeryoga.com/wp-content/uploads/2018/02/MTY-Icon.png
pbeue
2021-09-14 19:06:25
2021-09-14 19:06:25
Mother Trucker Driver Spotlight - VW Lady Trucker