Different Types of Exercises and Its Benefits
Before knowing the types of exercises, the first and significant question here is "What is an Exercise?"
An exercise is the intentional, habitual, and structural movement of the body or a part of the body to maintain or restore the body's healthy functioning.
Talking about its benefits, we cannot estimate enough of them because they are vast. On a brief note, Exercise improves one's mental, physical, emotional, and even spiritual well-being.
Whether people participate in light exercises, like taking a walk, or focused energy exercises, for instance, challenging cycling or weight lifting, customary Exercise gives a colossal scope of advantages for the body and brain. And as a truck driver, it is essential that you find time to fit in trucking fitness and get a wide variety of movement styles throughout the day and week. As a trucking fitness company, and more than 20 years of teaching fitness and wellness to people in pain, I get it, long drawn out workouts are difficult to keep up with and leave people quitting before they even begin to see results. That doesn't have to be your story. 
Partaking in Exercise of any intensity each day is fundamental for forestalling many illnesses and other health problems.
Here I will explain four different & necessary exercises and their benefits for a healthy functioning body.
  Aerobic Exercise

  Strength Exercise

  Stretching Exercise

  Balance Exercise
Aerobic Exercise
Aerobic Exercise speeds up your heart rate and breathing rate. These exercises help keep you fit, improve your wellness, and assist you with playing out the physical and mental tasks you need to do each day. Aerobic Exercise intends to improve how the body utilizes oxygen. Most aerobic Exercise happens at a sustainable level of power over long periods.
Aerobic Exercise is the sort that causes you to breathe more deeply or heavily and develops a healthy body. We will generally consider this sort of activity when we hear the word work-out.
It is exceptionally advantageous and will improve your well-being even at a moderate pace or intensity. You can get the advantages of high-impact Exercise from a lively walk or a consistent cycle ride.
Walking, swimming, hiking, biking, dancing, running, jogging, etc. All types of aerobic exercises will boost your heart rate and let the energy flow in your whole body.
Benefits
Aerobic exercises improve the functioning of your heart and lungs.

It boosts up your whole circulatory system function.

Stimulate erythropoiesis (red blood cell) formation.

Enhances oxygen transportation in tissues

Stimulates bone growth

Helps in Insomnia

Increases one's stamina
Strength Exercise
Strength training, additionally usually alluded to as weight or resistance training, is a type of anaerobic exercise, a kind of actual work that includes the breakdown of glucose (sugar) for energy without oxygen. Strength training plans to assemble and keep up muscle tissue using bodyweight or external obstruction, for example, freeloads or weight machines. Weight training can reinforce significant muscles, like the legs, back, glutes, chest, shoulders, arms, and midsection.
Keep in mind it's imperative to feel some muscle weariness toward the end of the training to ensure you are working or preparing the muscles viably.
It will probably incorporate bodyweight practices like squats, push-ups, jumps, and activities including resistance from the weight, a band, or a weight machine.
Benefits
It makes the muscles of the whole body stronger

Stimulates Bone Growth

Lowers blood sugar level

Helps in maintaining weight

Improves your posture and balance
Stretching Exercise
Stretching characterizes the scope of movement of your joints and the portability of your muscles. Sufficient flexibility is significant for athletic execution, day-to-day function capacity, and injury counteraction.
Stretching is genuinely significant and much neglected when individuals consider working out.
Aging prompts a deficiency of adaptability in the muscles and ligaments. Muscles abbreviate and don't work as expected. That expands the danger for muscle spasms and torment, muscle harm, strains, joint pain, and injury, and it additionally makes it intense to traverse day-by-day exercises, like bowing down to tie your shoes.
It involves tai chi, yoga, pilates, trucking yoga, fascial training, plyometrics, etc.
Benefits
 It makes

 your muscles longer

 It makes

 your muscles stronger

Reduces pain intensity from an injury

Reduces risk of an injury
Balance Exercise
Some activities improve your balance by causing you to develop center fortitude.
To reinforce core muscles and improve strength, consistently remember your regimen's practices that connect with various muscles. Balance and equilibrium practices frequently include moderate, controlled developments that connect with and fortify center or core muscles, which remember the muscles for your mid-region, back and pelvis. Feeble core muscles may prompt unsteadiness, helpless stance, and diminished athletic execution.
Planks, mini ball exercises, glute bridges, yoga, tai-chi, squats, leg lifts, walking, jogging, etc., are included in balance training exercises.
Benefits
It makes you feel steadier

It helps in preventing falls

Help with your visionary and auditory function

Good posture

Helps in effortlessly carrying out daily activities
Here at Mother Trucker Yoga, we believe that it's the small simple changes that lead to the big results in your life so that you can feel good again. And as your go-to trucking fitness company, we believe that in just minutes a day you can live a great and healthy life.
If you are looking to incorporate more driver fitness into your daily life and are not interested in gym-style workouts that just aren't sustainable as a driver. If you have tried other programs out there and they just aren't working for you.
Check out our NEW Mother Trucker Yoga LIFESTYLE JUMPSTART Membership Platform and APP.
Use our code: MTY30 for a FREE 30 days!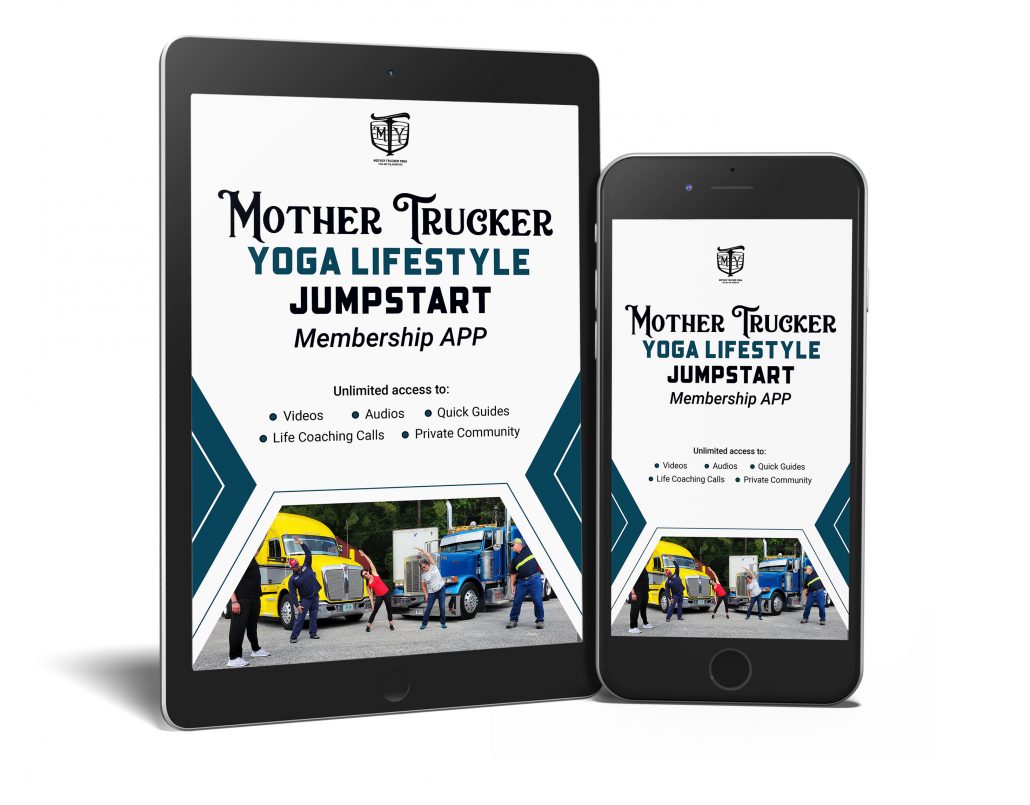 https://www.mothertruckeryoga.com/wp-content/uploads/2022/04/Mother-Trucker-Yoga-blog-4.jpg
720
1280
pbeue
https://mothertruckeryoga.com/wp-content/uploads/2018/02/MTY-Icon.png
pbeue
2022-04-04 07:00:46
2022-02-20 13:48:57
Truck Driver Fitness: Know the 4 Different Types of Exercise & Benefits