Common Issues From Sitting In A Truck All Day And How To Fix Them
When you are on the road all the time, you are at increased risk for certain medical conditions. Of course, not every trucker is going to experience the same things, but there are some common themes running through the industry when it comes to health due to all the sitting that has to be done. In this article, we are going to be talking about some of the common issues that truckers face from sitting in their trucks all day, and some of the things that you can do to fix them. If you would like to find out more about this topic, keep reading down below.
Sore Back And Neck
The first thing that you are more likely to experience is a sore neck and back. Seeing as you are not using the muscles in your back and you are holding your neck up all the time, it's no wonder that it begins to hurt. This is a problem because there's not much you can do to avoid this other than to stop every so often and take a short walk, or lay down in your seats for ten minutes. Give your neck a break, and let your back muscles stretch in order to keep them in good condition.
If the issue persists, then you should see a chiropractor. They might be able to do something to help you, such as give you small exercises to complete, or you never know what!
Obesity
Another huge problem is obesity. When you are on the road a lot, you're not getting the exercise that you need, you're probably eating fast food more often than not, so really obesity is to be expected. Even though this is the case, it doesn't make it okay and you need to avoid this at all costs. We recommend that you try taking some food with you for your meal while you are out. If you are going to be on a long trip and you can't take that much food with you, then at least try to pick some of the healthier options when you take a break.
Swelling In Your Legs
When you sit down for so long, your legs become more likely to swell. If you're not using your legs other than the slight movements, you are at risk of deep vein thrombosis as well which is not a pleasant condition. There are a few things that we can suggest here such as drinking enough water while you are on your drive, managing the amount of salt that you eat on the drive and before, as well as doing feet and ankle exercises while you are stopped in traffic for example. When you can, get up and have a walk around outside to get your blood pumping and your legs moving, and this should help you avoid the issue.
We hope that you have found this article helpful, and now see some of the common issues that you can get when you sit in a truck all day. Not only that though, but hopefully now you see how you can fix these issues as well. We wish you the very best of luck, and hope that this has helped you!
Want more help when it comes to your fitness and health? Join the movement!
MOTHER TRUCKER YOGA LIFESTYLE JUMPSTART MEMBERSHIP PLATFORM & APP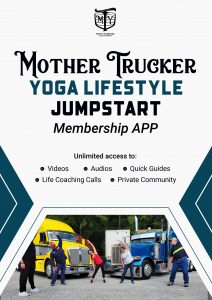 https://www.mothertruckeryoga.com/wp-content/uploads/2021/05/Common-Issues-From-Sitting-In-A-Truck-All-Day-And-How-To-Fix-Them-Mother-Trucker-Yoga-Blog-May-3-2021.png
720
1280
pbeue
https://mothertruckeryoga.com/wp-content/uploads/2018/02/MTY-Icon.png
pbeue
2021-05-03 08:55:06
2022-05-11 09:46:47
Common Issues From Sitting In A Truck All Day And How To Fix Them