We all resolve for the new year to follow. It can be anything from learning a new language to improving your health in the coming months. If you decide to have excellent health, better driver fitness, or want to do better than last year, this blog is for you! Here, we tackle the five strategies to improve your trucking fitness and make 2022 a year of health. Without further ado, let's jump right into the five strategies to improve your health in 2022.
Top 5 strategies to improve your health in 2022
Look After Your Mental Health.
Our brain is the powerhouse of our body, and having good mental health can reflect physical and emotional impacts on you. So how do you look after your mental health and driver fitness? Start with meditation and mindfulness. 
Please pick up the habit of unwinding by writing in journals because it provides emotional comfort and stability. Drink green tea because it delays age-related cognitive decline and makes us more agile. Be kinder to yourself and remind yourself that you are only human!
Eat Right
A balanced diet today goes a long way! Enrich yourself in low-fat diets that include plenty of fruits and vegetables and sources of protein, fiber, and carbohydrates. Avoid having excessive sugar as it can lead to a condition known as insulin resistance, a precursor to developing diabetes. 
Find a balanced diet that works for you, and stick to it! Reduce your intake of alcohol, especially after 3 pm. Keep your system free from nicotine and caffeine, as these stimulators yield harmful benefits to your body.
Get Your Body Moving
It shouldn't come across as a great surprise that exercise is critical to your health. Exercising improves cardiovascular strength and releases endorphins, which are happy hormones. It is linked to improving immunity against diseases, and exercising outdoors can enrich your body with vitamin D from the sun. 
Now here's the thing: you don't need to go to the gym to exercise. You could exercise with the help of online blogs or YouTube videos- like Mother Trucker Yoga's YouTube page, teaching just a few minutes of exercise in your trucking fitness routine.
Be careful there are many people out there with fitness videos, but many of them are not trained to teach. Look for videos and blogs written by experienced professionals and ones geared towards a driver's pain points.
Get Enough Sleep
Happy sleeping! Busy living has disrupted many of our peaceful lives, but it is critical to have an excellent 8-hour sleep each night. Sleeping well has many proven health benefits, and you'll be surprised to know so. Sleeping boosts your body's immunity, increases your cognitive reflexes, reduces aging of the brain, and helps in memory strengthening. You should ensure you're sleeping and waking up each day simultaneously, don't eat heavy meals before bed, and turn off devices an hour before sleeping.
Hydrate Yourself
Water is mostly what we are made of, which keeps us healthy. Water aids in alertness, keeping your skin and organs healthy. It helps you remain refreshed and work at the best of your mental abilities. An average adult needs eight glasses of water, and so should you if you want to have the best trucking fitness! This concludes our five strategies to improve your health in 2022.
Conclusion
We have brought you some driver fitness tricks to put up your sleeve this year. All you have to do is gather motivation and willpower to stick through and become healthier, happier, and have an excellent trucking fitness routine this year!
If you are ready to shift gears and join the movement.
Sign up to be a part of Mother Trucker Yoga's LIFESTYLE JUMPSTART Platform & APP!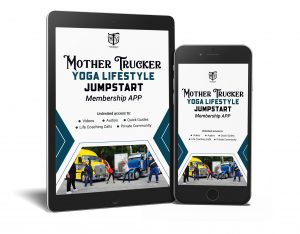 https://www.mothertruckeryoga.com/wp-content/uploads/2022/10/MTY-blog-.png
720
1280
pbeue
https://mothertruckeryoga.com/wp-content/uploads/2018/02/MTY-Icon.png
pbeue
2022-10-03 07:00:51
2022-05-13 12:32:27
5 Strategies to improve your health in 2022: New Guide