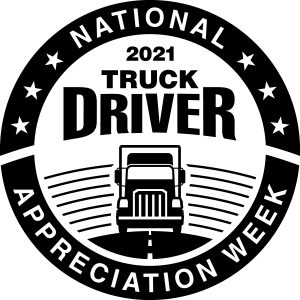 Driver Appreciation Week may be over, but we still want to celebrate! And what better way than to highlight some of our road heroes. We interviewed drivers and asked them questions about their lives to help others see how unique and hard trucking is.
It's our truck drivers who keep our great country running strong. Many of these men and women go unnoticed, not because they aren't necessary, but because what they do doesn't live in a fancy building or doesn't require a cap and gown.
These men and women are out on our roads, carrying all our essential and non-essential products we want and love day in and day out. And here at Mother Trucker Yoga, it's not just trucking fitness that is important to us. It's the men and women whom we serve.
We love our truck drivers and want to celebrate them in every way we can.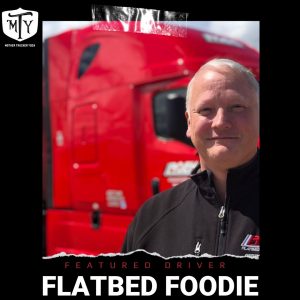 Meet Flatbed Foodie!
QUESTION 1: How long have you been driving?
Answer: 3 years
QUESTION 2: What do you want to say to new upcoming drivers in the industry?
Answer: Flexible minds and bodies last a lot longer in the end.
We agree with that! Your mind creates your reality, and when it comes to driving, isolation, loneliness, and depression are factors we all must keep in check as drivers and humans. Make sure you take time to stay connected, not just through social media but talk to your friends and family daily, consider meditation, and getting outside for some fresh air every day. And don't forget to move your body. With nearly 10 hours behind the wheel and on the clock, it can be easy to lose track of time. So schedule movement into your day in five-minute bursts, and with the help of Mother Trucker Yoga's videos, you will be on your way!
QUESTION 3: Trucking is hard. Why do you keep on trucking?
Answer: Still seeing new things, and I train others, so I get to share. Being part of starting someone on a safe and profitable journey is fun.
DID YOU KNOW?
According to the American Association of Motor Vehicle Administrators, state governments issue more than 450,000 new commercial driver's licenses every year. That's a lot of CDL's. And good thing we have people like Flatbed Foodie on the roads training other drivers just like you!
QUESTION 4: What is your favorite truck stop?
Answer: Iowa-80 Truck Stop! Who doesn't love I80? And we agree! We love it too!

DID YOU KNOW?
On the eastern edge of Iowa, not far from the Mississippi River, adjacent to the small town of Walcott, you'll find a place like no other in the world. The Iowa 80 Truckstop, now the World's Largest Truckstop, established its home here in 1964 and is now in itself a home away from home to countless drivers and a destination for travelers as well.
Some say Iowa 80 Truckstop is like a small city. Others have likened it to a Trucker's Disneyland. All can agree it is a place not to be missed.
QUESTION 5: What do you want to say to new and upcoming drivers?
ANSWER: You will never look back. You are your boss. You get to travel and serve country/towns and people. And you are valued and an essential driver. This is an excellent career.
QUESTION 6: What would make trucking easier for you and other drivers?
ANSWER: Automatic logs, healthier food (make sure you read our blog on healthy snacks to pack) on the road, and more efficiency.
QUESTION 7: What do you do, if anything, to try to stay healthy on the road?
ANSWER: Light cardio, walking and stretching, and diet planning.
Flatbed Foodie had a final thought he wanted everyone to know.
Trucking is a challenging and rewarding way to support your goals. It can be a lifelong profession or a quick way to earn cash in some cases. The need is real and the compensation is there for those who want to work.
What do you like most about the trucking industry?
Have a comment to share with Flatbed Foodie or our readers?
Please share it in the comments below!
Mother Trucker Yoga® wants to help 1 million drivers change lanes in their health and fitness by 2031.
To get involved with Mother Trucker Yoga's mission and help drivers just like you incorporate driver fitness into their lives.  Contact us!
Read our other Driver Spotlights:
VW Lady Trucker https://www.mothertruckeryoga.com/2021/09/14/mother-trucker-driver-spotlight-vw-lady-trucker/
Mark Iverson https://www.mothertruckeryoga.com/2021/10/06/mother-trucker-yoga-driver-spotlight-mark-iverson/
https://www.mothertruckeryoga.com/wp-content/uploads/2021/10/MTY-blog-.jpg
720
1280
pbeue
https://mothertruckeryoga.com/wp-content/uploads/2018/02/MTY-Icon.png
pbeue
2021-10-10 06:00:50
2021-10-06 14:59:06
Mother Trucker Yoga Driver Spotlight - Flatbed Foodie