Sitting is the new smoking. And for a truck driver, sitting eight to ten hours a day behind the wheel is taxing on the body. It's mentally exhausting, and when it comes to the physical body, we feel tired and want to get out of the driver's seat and sit some more, but we need movement. 
It doesn't have to be a trucker workout when you consider adding movement into your everyday life. It doesn't have to be a choreographed routine someone created for you to do outside your truck. It doesn't have to be in a gym or fitness center. When adding movement to your day, the only thing that is required is you move your body, move your body in as many ways as possible. A truck driver workout is where you are working to move as much as possible. Don't get caught up in fancy equipment or routines. It's about using your body the way it was designed. 
A sedentary lifestyle isn't just a truck driver concern; 33.6% of American's are obese (alongside 86% of truck drivers). Solving a sedentary lifestyle issue, exercise is not the solution. It's filling the gap between the driver's seat and the idea of exercise. This is why so many drivers aren't doing a trucker workout. It's too big of a leap from where they are to where everyone else tells them to go. 
So let's refocus the idea of a truck driver workout and focus on how to "fit" more movement into your day and maximize the time you have with more movement. 
But to do that, we first have to know "how" to move. Technology and convenience have robbed us of basic human movement. And although we may be saving our back from lifting heavy things, we are killing our back by sitting around all day. 
Here are five ways you can easily add more movement into your day with your truck driver's time. And the goal, start small, focus on adding 15 minutes of on-purpose movement into your day, and then when that becomes automatic, focus on the next step, like increasing the time or concentrating on actual exercise. 
Squatting

. Squatting is a basic human movement we have been doing since the beginning of humans. Yet few humans, few American's, few truck drivers are doing them. Many say that their body doesn't move that way, but I assure you that your body did move. You just trained your body this way by not doing them daily. So, where can I add more squatting into my day? 

While on your bed, bring your knees (one or both) in towards your chest, grab your shins or underneath your thighs and hug your leg(s) in. 

Come onto your hands and knees on your sleeper and lean back as far as you can towards your heels, you might not go far, but that is because you haven't been doing this type of movement for some time. Squat down an extra five or ten times to "look under your truck and trailer" during the day. 

Or squat from standing and go as far as you can. Every little bit counts!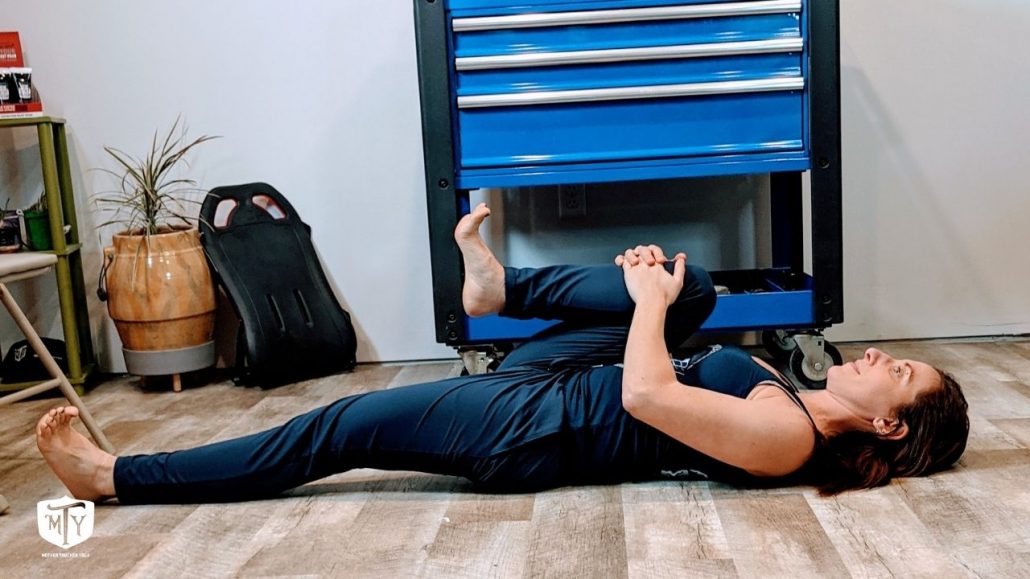 Reaching

. Reaching is a basic human movement few do. You can increase your heart rate by reaching overhead, taking a deeper breath, and even stretching your back. Where can you add more movement to your day? 

In the driver's seat, reach your arms forward, upward, backward, sideways throughout the day. 

Outside your truck, place your hands on the truck, step back and then lean your hips back and drop your chest. 

While in bed, stretch your arms overhead and your legs out as best you can.

Reach sitting, standing, anywhere you can.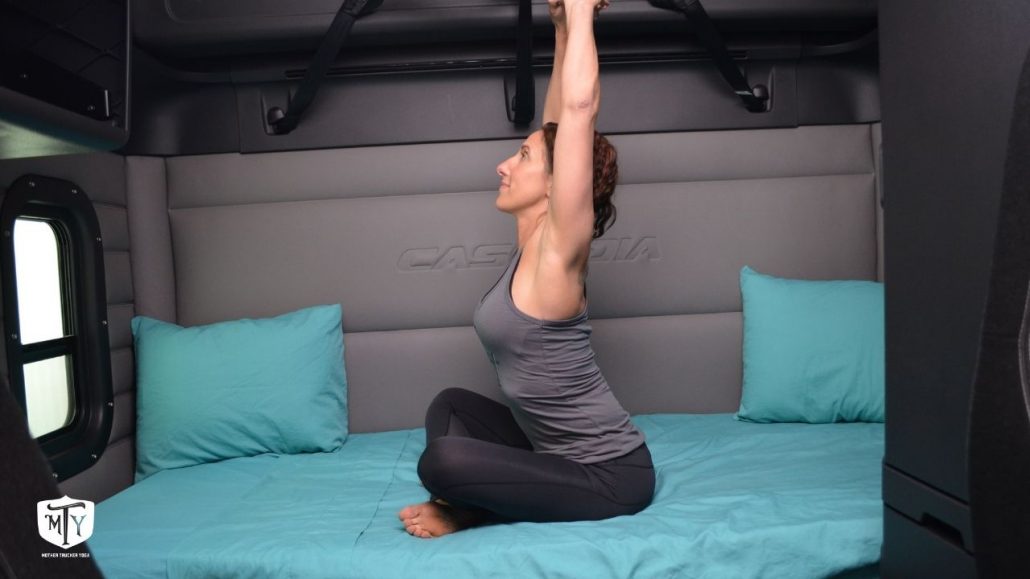 Bending

. Bending is a function we do daily, but few do it well. Tight legs, stiff back and shoulders, we rounding more than bending. A truck driver workout should start with you moving more throughout the day. 

While in bed, loop a belt around the sole(s) of your feet and bring your leg(sup to the ceiling to stretch your back body. 

Standing outside your truck, focus on hinging forward from your hips rather than rounding at your waist. 

Try bending using the side of your rig for a Half Down Dog style bend.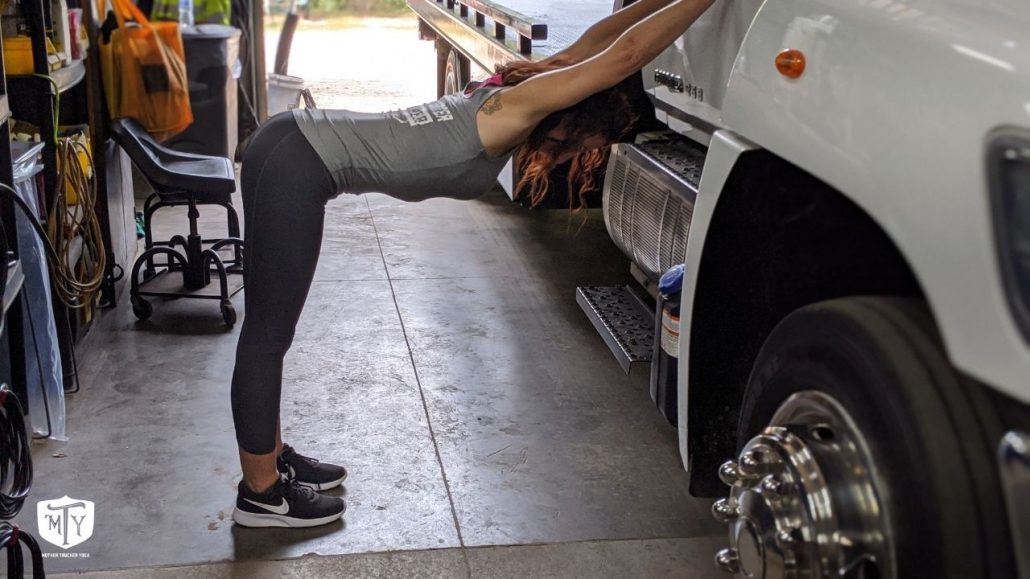 Twisting

. Twisting is an essential way to nourish our spine. When we rotate, we hydrate the disc in our spine and keep our tissues limber. Much of what we do throughout the day doesn't require us to twist anymore, and it shows. Before you think you need an intense truck driver workout, consider how well you twist in your everyday life. 

Twist in the driver's seat when putting on your seat belt. 

Twist in bed by bringing one leg up and over your body to rotate the hips and spine. 

While standing, swing your arms side to side to hit your back and allow your body to rotate in the process.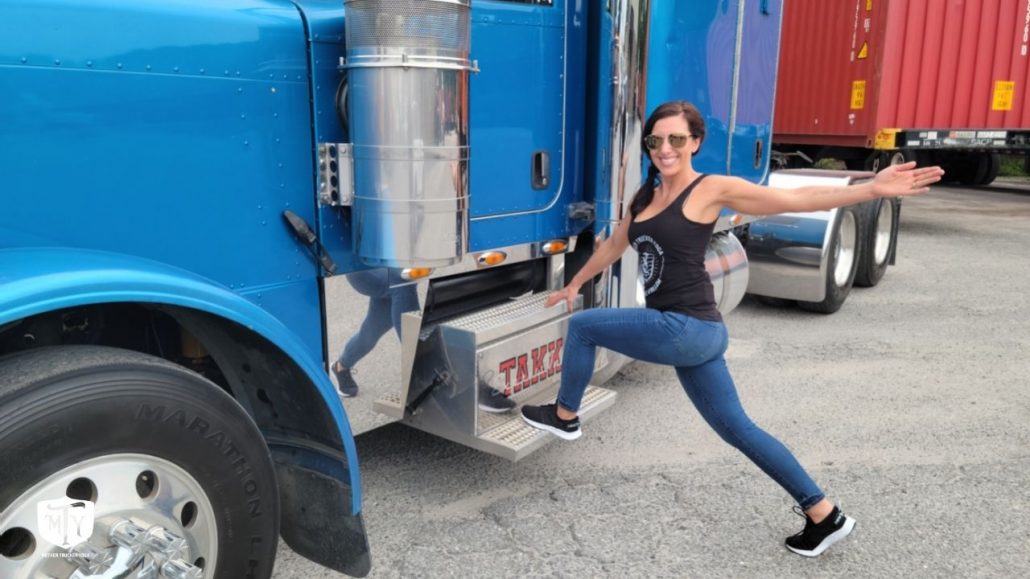 Walking. We were designed to walk, yet you are probably not getting anywhere near the steps you need daily. After a long day, don't sit down again. Get up and walk. In the beginning, don't worry if it's not far, or fancy, or fast. Just get out and walk. 

Walk on purpose for 15 minutes every day. 

Walk an extra lap around your truck and trailer every time you are out of the truck. 32 laps are one mile. 

Don't forget to check out what walking paths are near or around the truck stops. Many trucks stop post the designated walking trails like TA Petro. 
Suppose you are still feeling overwhelmed with figuring out how to fit in a trucker workout. Don't stress, first focus on everyday life movements, and when you are moving more in life, consider exercise as a great addition.
https://www.mothertruckeryoga.com/wp-content/uploads/2021/11/MTY-blog-16.jpg
720
1280
pbeue
https://mothertruckeryoga.com/wp-content/uploads/2018/02/MTY-Icon.png
pbeue
2021-11-22 06:00:38
2021-11-16 15:12:30
How To Stay Fit Without A Trucker Workout