When you spend time at a desk or behind the wheel of a truck all day, it gets much harder for you to want to move and exercise. Sitting all day can be a pain in the back (literally), however, as the pressure on your backbone and bottom can cause pain in the legs and cause you to slump. Sitting for long periods of time can also lead to long-term health problems, including anxiety, depression, diabetes, and weight gain.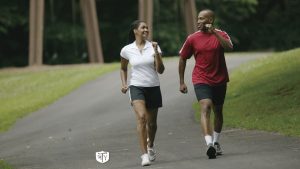 When you increase your daily movement, you can reduce the risks of any of the issues that long-term sitting can cause. A sedentary lifestyle is actually pretty hard to maintain because your body wants to move. Perhaps on your down days, you can start bulking up at the gym – and you can learn all about that here. When it's time to be at home again, you can start adding in some more movement. Increasing your daily movement may be tough at first, but with these strategies, you can start getting moving! Incorporating trucking fitness into your day isn't difficult when you break it down.
5 Ways to Increase Daily Movement:
Go for a walk.
Whether you are at a desk or not, you can get up and move around. Walk around the office, go out for lunch and walk the block a couple of times. If you're a trucker, you can get out at rest stops and go for a walk to stretch your legs, too. Even if you are on long drives, you can schedule a walk for 20 minutes at a time each time you stop for something.
For each time you stop on your route, stretch your arms and legs. You need to make stretching a habit so that you build it into your routine every single day. A stretch doesn't have to be a full yoga routine, but you do have to do what you can to make your body feel supple. 
Sit up straight.
When you are sitting for long periods, you need to train your body to remain upright. Slouching your shoulders and hunching over is awful for your spinal health, so make sure that you are sitting up straight. Putting some time into learning how to sit up can make a huge difference to your ability to move well and it stops you from being so stiff!
Move while you watch TV.
When your show is on, move your body. Run-on the spot, do some jumping jacks, and even do some strengthening exercises and stretches. All of these things are so beneficial for the body and it's a good way to relax before bed. 
Make your movement consistent.
Park your truck or car far away from your destination and walk more. Use the stairs and not an elevator. Get off public transport early and walk the rest of the way. There are so many ways that you can be consistent with your movement and add it into your day, even when you are spending most of it sitting down or still.
Moving more has to be a part of your day – make it so!
Are you or your trucking company looking to take their truck driver fitness and truck driver wellness up a notch? Let Mother Trucker Yoga be your trucking fitness company and show you how with small simple changes you can feel better wherever you are.
https://www.mothertruckeryoga.com/wp-content/uploads/2021/07/Practical-Tips-to-Boost-Your-Positivity-.jpg
720
1280
pbeue
https://mothertruckeryoga.com/wp-content/uploads/2018/02/MTY-Icon.png
pbeue
2021-07-02 10:17:23
2021-07-06 09:42:20
How To Move More When You Sit All Day!