As a truck driver feeling the pressure to be ready at any given moment can be stressful and downright irritating. Hurry up and wait seems to be the constant mantra most truck drivers adopt into their lives, and with that comes the added stress of never having control over the situation you are in. But you don't need to let that keep you from finding ways to feel and stay calm no matter what comes your way. 
Do you ever feel as though you are permanently stuck in overdrive? Like it's zero to sixty in T-10, and you need to stay there until the job is done, only to feel like you want to crash but are never 100% able to recharge your batteries when you need to. 
You are not alone.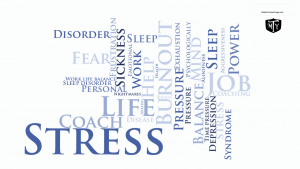 Truck driver fitness is more than just exercise. While everyone else is focusing on push-ups and mountain climbers, Mother Trucker Yoga is saying let's learn from what yoga can teach us about living a healthy, happy lifestyle, and yes, that includes truck drivers. 
There are dozens of natural, easy, and effective ways to manage the stress that will help you deal with the day-to-day ups and downs, unexpected delays, and schedule changes with ease. 
The best way to manage stress is to keep moving!
Keep moving. Yes, I know you are a professional driver, but that seat doesn't mean you can't move at all. Movement trumps exercise in that movement is not designated to a specific time, a particular style of movement, or outfit choice. Movement is a way of life; if you aren't moving, you are training yourself not to move. And that lack of movement will leave you feeling stressed, worried, and unable to sleep. 
Movement and exercise encourage the brain to release "feel-good" chemicals called endorphins. These endorphins interact with the receptors in your brain that reduce your perception of pain. Endorphins also trigger a positive feeling in the body, similar to that of morphine. 
WOW! Just 15 to 20 minutes of movement every day can help you fight the urge to overeat. That movement can come in the form of dancing, walking, squatting, using weights or a resistance band from the driver's seat, or even doing a little yoga in your truck, and of course, exercising in any way you choose. Do not let your mind limit you or tell you the lies that this movement has to come in a certain package. We often complicate things to keep us from achieving the results we are looking for. It's called a Fixed Mindset, and it creeps up on us whenever we are faced with doing something different from what we have been doing up to this point. Even when we know the change is good for us, our minds will try to convince us otherwise. Adding movement into your day is one of those things that you just have to do anyway despite what your mind may tell you. 
When done correctly and done regularly, it's movements like this that can have a positive impact on your emotions and, in turn, on your life. 
Today instead of thinking,
 I can't find the time
. Decide that there is always time. 
Today instead of thinking, 
I don't like exercise
. Decide that movement is more important than exercise. 
Today instead of thinking, 
I am too busy
. Decide that you are never too busy for your health. 
There is a small window of time before you look back and say, I wish I would have. That window of time is now. And great news, you can start today. Join the movement over at Mother Trucker Yoga and see for yourself how easy it can be to de-stress as a truck driver and feel good again. 
https://www.mothertruckeryoga.com/wp-content/uploads/2021/07/Trucker-Fitness-Managing-Stress-Through-Movement-Part-1.png
720
1280
pbeue
https://mothertruckeryoga.com/wp-content/uploads/2018/02/MTY-Icon.png
pbeue
2021-08-02 07:00:17
2021-07-13 14:03:55
Trucker Fitness: Managing Stress Through Movement - Part 1