Traveling is a life-changing experience. It can be physically and mentally stressful. Such planned experiences can sometimes not go according to plan or loop us into exhaustion. From finding it hard to sleep in unfamiliar places to spending long hours in traffic, finding an activity that grounds you to your core and helps you overcome the adversities that come along with traveling. Here is where trucking yoga comes along. If you want to know more about the benefits of yoga for travel, keep on reading!
Five benefits of yoga for travel you should know
It reminds you to breathe.
Breathing is a vital part of yoga practice. Learn to focus on your breathing- it can make solutions far more accessible. When you focus on your breath during yoga, challenging poses become easier. The same is the case with travel. Difficult situations arise all the time and can knock the wind out of us. In those moments, trucking yoga can help you assess conditions very calmly through deep breaths.
Try this:
Sit tall
Relax your shoulders
Relax your face, jaw, tongue
Close your eyes
Take a deep breath in through your nose and work to fill your belly and lungs as much as you can with fresh new prana (oxygen).
Now slowly work to breathe out through your nose, making that exhale slightly longer than the inhale
Repeat this again two more times.
How do you feel?
It makes you appreciate the present.
If you ask me what yoga teaches, I would say it teaches you to be present in your current state-mindful of what the heck you are doing in your life, your thoughts, your actions in this very moment. You're supposed to live in the present and find steadiness at the moment and you can't do that when you are rushing a million miles an hour each day (that's why we breathe). When you're traveling, that's exactly what you need. It can be tough to devote an hour to yoga on the road, but trucking yoga can be quite helpful in these cases. Appreciating what you have in front of you and being grateful for it can make a huge difference in your outlook on life, especially while traveling long distances. 
So what can you do today?
Try this:
Sit tall
Inhale and reach your arms up overhead
Interlace your fingers and press your palms up to the sky
Drop your shoulders and try to be as tall and long as you can
Breathe for five breaths
How do you feel now?
That's yoga.
It eases muscular tension.
Are you traveling with backpacks? Sitting behind the wheel for a 12-hour road trip? Perhaps you are currently looking at an NYC travel guide that is going to involve a lot of walking? The weight of physically carrying yourself from one destination to the other can create a lot of tension in our muscles and limbs. This could cause further fatigue and injury if the tension is not released. So what is the benefit of yoga for travel in this case?
Stretching can alleviate the stress in your body, and what better way to stretch than a few minutes of yoga? If you establish a yoga habit, your muscle tissues will thank you for the extra strength in them! Poses such as (half) downward-facing dog, and figure-four stretch will help reduce stress and tension in your tissues. And don't forget to ease your muscles with STIFF Mother Trucker Pain Relief Cream thereafter. 
It can be practiced everywhere.
There are many yoga studios you can drop into, books on the subject that could guide you through the poses, as well as formal classes where you could learn to stretch your body. But the best part of doing yoga is that it doesn't require any more than your body and some space to stretch. This makes it your travel best friend.
Yoga improves blood circulation.
So far, you know how well stretching does for your body but did you know it also improves your body circulation? Sitting behind the wheel for hours can increase the need to have better circulation in the legs and arms to avoid fatigue and body ache. Yoga would solve those problems for you, so honestly, there are no more excuses to avoid trucking yoga any longer.
You can do this. 
Travelling can be fun when not coupled with unwanted fatigue, muscle tension, and stress. Yoga is what can keep those issues at bay for you, and it never takes too much space or time to practice the art of steadiness. So what is stopping you from including trucking yoga in your travel itineraries, especially with all these benefits of yoga for travel?
Traveling with tools can make any trip more manageable, don't forget to check out Mother Trucker Yoga LIFESTYLE JUMPSTART Membership Platform & APP available on all devices!
Use CODE: MTY30 for a FREE 30 DAYS on the last wellness and fitness platform you will ever need!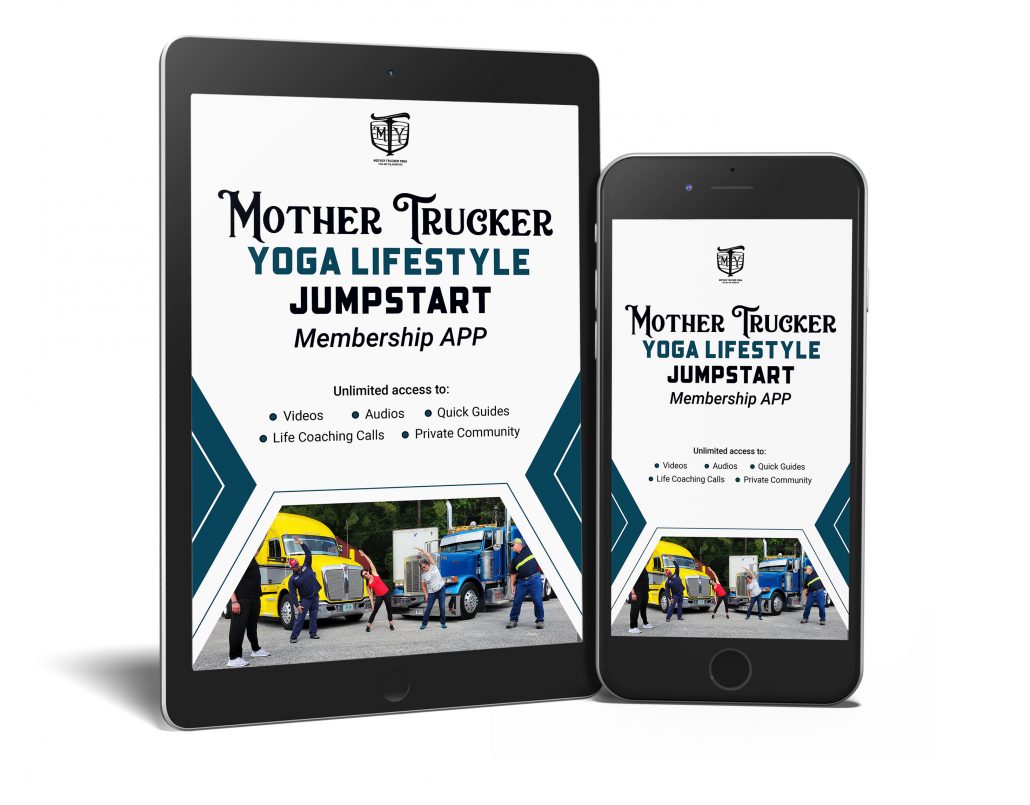 https://www.mothertruckeryoga.com/wp-content/uploads/2022/02/271.jpg
720
1280
pbeue
https://mothertruckeryoga.com/wp-content/uploads/2018/02/MTY-Icon.png
pbeue
2022-02-24 09:06:55
2022-12-19 10:29:43
All you need to know about the benefits of yoga for travel